Last Updated on June 29, 2021
You've been working all morning, and the afternoon rolls in. Your stomach rumbles, but you've got no idea what to grab for lunch. You can't stand the thought of eating another turkey sandwich, and you really don't want to shell out money on takeout. Luckily, you can whip up a variety of light lunches in under 20 minutes.
Whether you're looking for a fresh take on a classic sandwich or a hearty salad, we've got you covered. Try these recipes to quickly get out of that lunch rut and satisfy your hunger.
Quick and Simple Chicken Salad
This quick and simple chicken salad is so versatile, it's about to become your lunchtime MVP. You can serve it atop a bed of leafy greens, in between slices of your favorite bread, or in a crisp lettuce wrap.
Cut down on a ton of cook time with ButcherBox Complete chicken breasts, which are ready-made chicken breasts that you can easily slice and toss with the salad ingredients. Those flavorful salad mix-ins include fresh tarragon or parsley (use whichever you like better), dried cranberries, chopped pistachios, and green goddess dressing.
This simple chicken salad is the perfect light lunch for summer. Plus, it's ready in minutes. You can't beat that!
Easy, Butter-Poached Lobster
Here's a summer-inspired light lunch with some staying power: easy, butter-poached lobster.
Thanks to ButcherBox's packaged, cold-cracked lobster claw and knuckle meat, you can have this delicious lobster lunch ready in 10 minutes flat. All you need for the lobster is the meat, butter or ghee, and fresh tarragon. An optional spritz of lemon brightens things up, too.
It's true: This lobster meat does cook in a bath of butter or ghee. To keep things lighter, go ahead and serve this atop a vibrant, colorful salad.
Easy Baked Cod
While baked cod doesn't sound like it would make a quick lunch, you can have this meal ready in under 15 minutes. Thankfully, cod is a quick-cooking fish.
It doesn't take much to put this meal together. Simply coat your cod fillet with a bit of avocado oil and sprinkle on your favorite seasoned salt.
Bake the cod for 10 to 15 minutes, depending on the thickness of the fillet. Serve it atop a delicious salad (perhaps fortified with some whole grains or quinoa) for a light lunch.
Spicy Curry Sausage
This Thai-inspired spicy curry sausage boasts seven flavor-packed ingredients and cooks up quickly. Try serving it in lettuce wraps for a refreshing lunch.
This recipe is similar to those for sausages from Laos and Thailand. You'll also find that the use of curry and fish sauce is quite common in sai ua, a dish popular in Northern Thai cooking.
To make this sausage, combine ground pork, ground anise seed, red curry paste, fish sauce, rice vinegar, soy sauce, and minced garlic. Cook it all up in a pan, and it's ready to serve in crisp lettuce wraps, alongside crunchy veggies like carrots and cabbage.
Cook at Home Mom's Buffalo Chicken Salad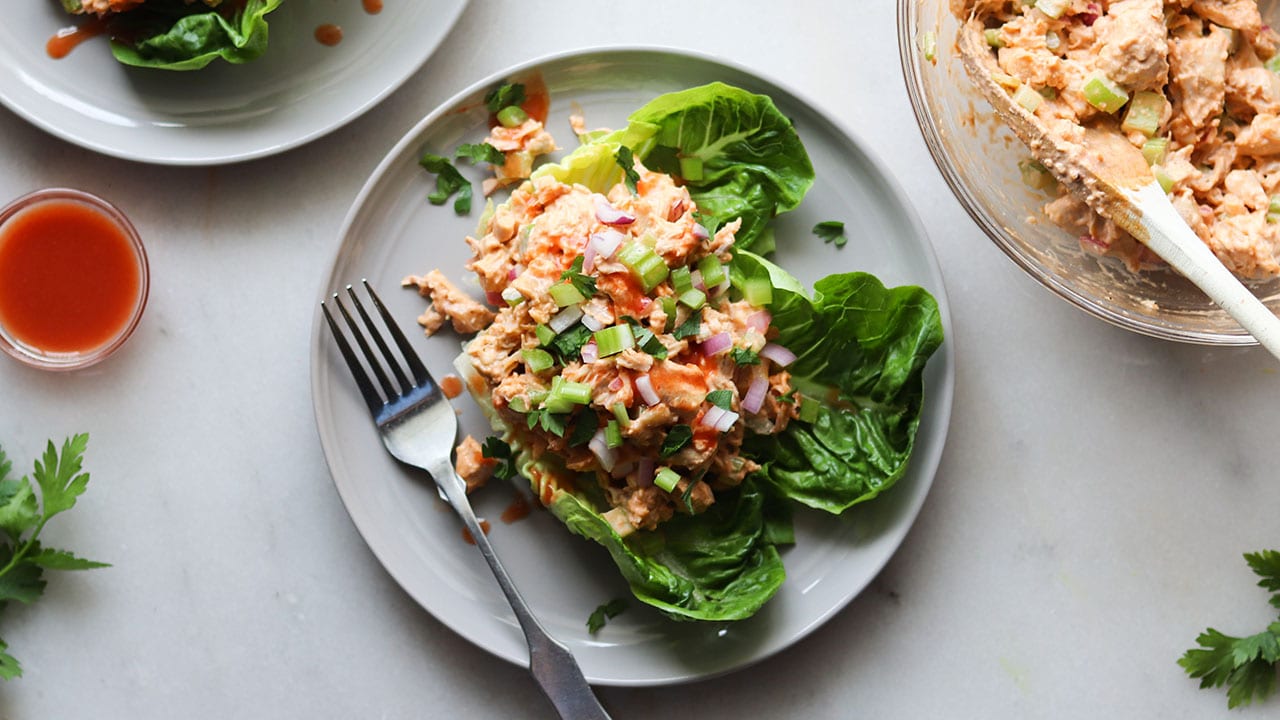 With a little bit of prep ahead of time, this buffalo chicken salad can be made quickly for lunch. It's spicy, creamy, and so satisfying.
All you'll have to do to prepare ahead of time is cook up some chicken in the slow cooker or Instant Pot. You'll want to have it ready to shred and toss with the salad ingredients for a quick lunch. Better yet, use any leftover shredded chicken you may have on hand in this light lunch recipe.
This recipe is Whole30 compliant and low carb, thanks to smart ingredients like celery, red onion, compliant hot sauce, mayo, garlic powder, and salt and pepper. You'll serve the chicken salad in lettuce wraps with a bit of avocado, parsley, and your preferred dressing.
Simple Pan-Seared Scallops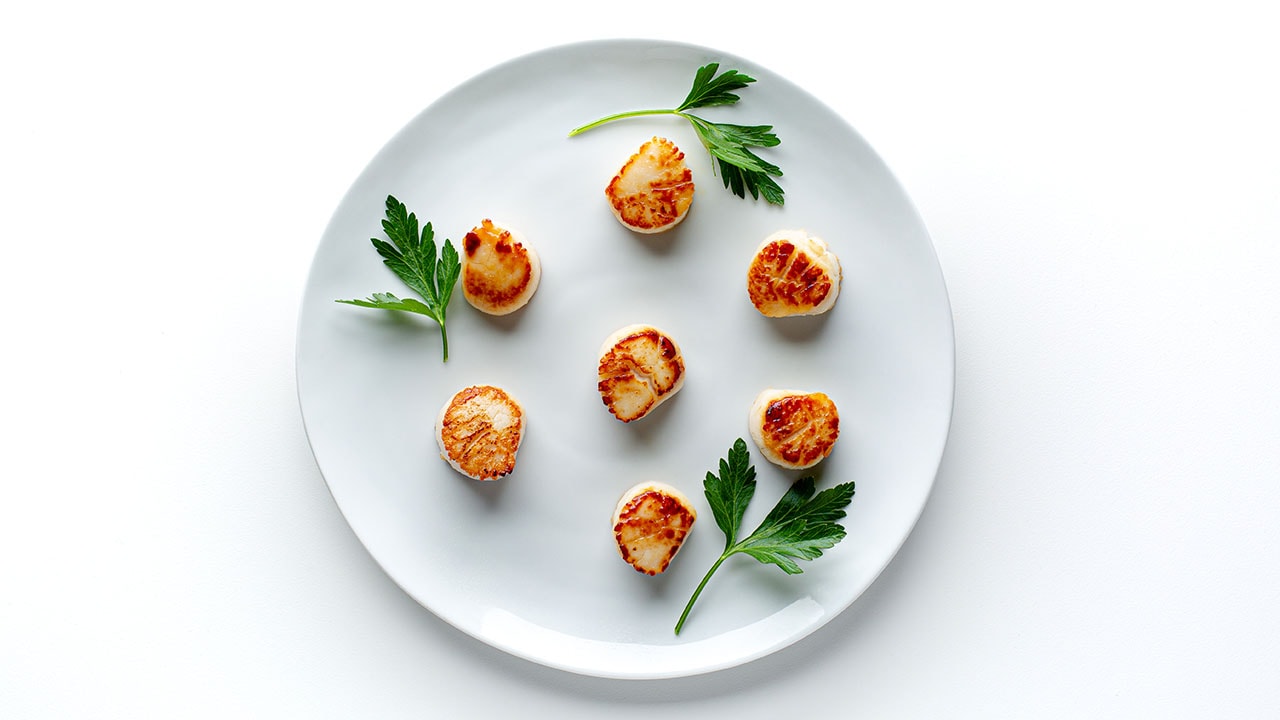 Looking for something unique for lunch? These simple pan-seared scallops are richly flavored, but so quick and simple to throw together.
These scallops are flavored with a quick pan sauce, made with butter and aromatics like fresh ginger, Fresno pepper, and garlic. Finish the dish with a spritz of lemon and some parsley.
All told, these pan-seared scallops are ready in 10 minutes flat. You can serve them with a quick salad or your favorite veggies for a light lunch.
Grilled Sockeye Salmon with Peppadew Butter, Asparagus, and Charred Tomatoes
If quick and light fare is what you're after, consider firing up the grill. This grilled sockeye salmon with peppadew butter, asparagus, and charred tomatoes recipe is ready in 20 minutes since salmon is a quick-cooking fish.
You'll only need a handful of ingredients for majorly flavorful results. To start, you'll whip up a quick compound butter, with butter, parsley, garlic, and peppadew juice. From there, season your fish with salt and pepper. Brush it with the butter and grill it for just a couple minutes.
The asparagus and tomatoes get the same treatment, with a quick brush of the butter and a five-minute trip to the grill. That's it!
Pan-Seared Salmon with Green Goddess Dressing and Radish Apple Salad
When you're looking for a quick, light lunch, you really can't go wrong with a solid salad. This pan-seared salmon with green goddess dressing and radish apple salad is packed with herby flavor, textures, and staying power. For us, it checks all the boxes.
There are three components to this meal: a green goddess dressing, simple, pan-seared salmon fillets, and a radish and apple salad base.
The green goddess dressing features Greek yogurt and three fresh herbs: tarragon, parsley, and chives. As you can imagine, it delivers vibrant flavor to this meal. To make the salmon, you'll pan-sear the fillets with butter and the same three herbs. Finally, you'll layer some Bibb lettuce, shave carrot into ribbons, and slice radishes and green apples.
Plate it all together, and you have one to-die-for salad.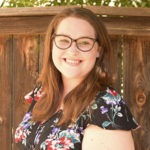 Courtney Hamilton is a writer and editor with over seven years' experience in journalism, blogging, communications, and other media. She has written for publications like PaleoHacks, PaleoPlan, The Center for American Progress, OC Weekly, and more.