What do you want to cook today?
Sweet and Sour Pulled Beef
Lemon-Paprika Roast Chicken
Spicy Bacon Bloody Mary Mix
Cozy Pumpkin Lasagna with Pork, Fennel, and Chard
Crispy Air-Fryer Garlic Wings with Hot Honey
Pan-Seared Ribeye with Potatoes and Mushrooms
Seared Scallop with Coconut Cream Sauce
Roasted Tri-Tip with an Avocado, Pomegranate, and Orange Salsa
Chili-Rubbed Tri-Tip with Mango-Jalapeno Salsa
Chipotle-Cacao-Rubbed Sirloin Filets
Pumpkin Spice Slow Roasted Chicken Thighs
Simple Roasted Turkey Breast
Easy Baked Chicken Breasts
Brown Butter and Limoncello Lobster Tail Pasta
Sweet and Smoky Mixed Nuts
Cast-Iron Coulotte with Chimichurri Sauce
Six Steps to Perfect Bacon
Fennel Bolognese (Primal Kitchen Bolognese)
Grilled Tri-Tip (Santa Maria-style) with Grilled Potato Salad
One-Pot Cheeseburger Pasta
Hot Buttered Lobster Roll
Cod Sticks with Simple Tartar Sauce
Easy Butter-Poached Lobster
One-Pan Cod with Tomatoes and Corn
Sweet Potato Shepherd's Pie
Just Peachy! BBQ Chicken Thighs
Shaved Asparagus and Frisee Salad with a Warm Bacon Honey Vinaigrette
Maple Orange Bread Pudding French Toast
Rosemary and Garlic Roasted Lamb with Mint Pesto
Polenta Cake with Crispy Bacon
Cook at Home Mom's Buffalo Chicken Salad
Mustard-Crusted Pork Tenderloin
Garlic-Crusted Ribeye with Smoky Hazelnut Scalloped Potatoes
Honey Bacon-Wrapped Pork Tenderloin
Easy Baked Chicken Wings with Tangy Yogurt Dip
Cast-Iron Skillet Meatloaf
Garlic & Herb Crusted Ribeye Roast with Horseradish Cream and Bacon Shallot Marmalade
Maple Sautéed Rainbow Carrots
Perfect NY Strip from Frozen
Sage Roasted Turkey with Gravy and Orange Cranberry Relish
One Pan Leftover Turkey and Rice
Perfect Pan Seared Ribeye Steak
Bacon Sautéed Green Beans
Creamy Cauliflower and Parsnip Purée
Bacon Peanut Butter Truffles
Sesame Crusted Salmon with Orange Miso Jus
Salmon Croquettes with Remoulade
Seared Salmon with Pineapple Salsa
BB Fried Chicken Sandwich
Mixed Grill with Chicken, Bulgur, and Tahini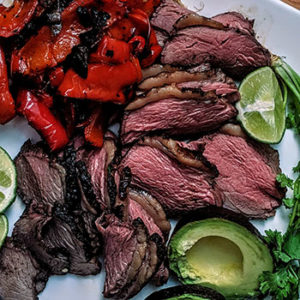 Sirloin Cap with Peppers and Onions
Ginger-Soy Ranch Steaks with Cucumber and Herbs
Seared Scallops with Bacon Lemon Cream Sauce
Simple Pan-Seared Scallops
The Simple 3-Ingredient Burger
Perfect Top Sirloin from Frozen
Pan-Seared Top Sirloin Steaks with Bacon and Brussels Sprout Hash
Slow-Cooker Molasses Smoked Brisket
Pineapple Marinated Flat Iron with Coconut Pineapple Rice
Grilled Sirloin Tips with Coffee-Bourbon BBQ Sauce
Tri-Tip with Poblano-Lime Chimichurri
Cilantro Lime Hickory Grilled Flank Steak
One Pan Smoky Ribeye With Sweet Potato Hash
NY Strip with 5 Minute Marinade & Bruschetta Salad
Lemon Garlic Marinated Top Round London Broil with "Squoodles"
Smoky Chili-Rubbed Coulotte with Fancy Red Pepper Salsa
Honey & Sea Salt Ranch Steaks with Roasted Carrots
Easy Holiday Ribeye Roast
Smoky Citrus Grilled Chicken Thighs
BBQ Dry Rubbed Drumsticks
Easiest Chicken Wing Soup
ButcherBox Bacon Burger with Chipotle-Lime Mayo
Pork Dumpling Stuffed Peppers
Maple-Brined Whole Pork Loin Roast with Mini Cranberry Pies
Easy Holiday NY Strip Roast
Easy Holiday Roast Leg of Lamb
Grilled Sockeye Salmon with Peppadew Butter, Asparagus and Charred Tomatoes
Parmesan Pork Chops with Cherry Tomato Vinaigrette
Gluten-Free Beef Wellington with Bacon Jam
Perfect Pork Chops from Frozen
Seared Flat Iron Steak with Roasted Veggie Salad
Lemon Basil Chicken Thighs with Jeweled Quinoa and Pesto
Jerk-Rubbed Top Sirloin With Mashed Plantains
Fennel & Tomato Italian Pork Shoulder
Tarragon and Apple Chicken Salad
Tapenade and Feta Stuffed Pork Tenderloin
Marinated Strip Steak WIth Herby Potato Salad
Holiday spiced Whole Beef Tenderloin with Roasted Root Veggies
Grilled Greek Marinated Chicken Breast with Peach and Endive Salad
Pan Seared Salmon with Snow Pea and White Bean Salad
Lemon Poached Salmon with Quick Pickle Sour Cream
Lemon Turmeric Marinated Flank Steak with Lentil and Beet Salad
Cumin Baked Salmon with Pea Pesto
Lemon Pepper Chicken Breast with Brown Sage Butter
Appearances are Everything
Perfectly Juicy Lemon Pepper Chicken Breasts
BB-Witched Cranberry Bacon Cocktail
Easy Ground Beef from Frozen
Ground Beef and Wild Mushroom Stroganoff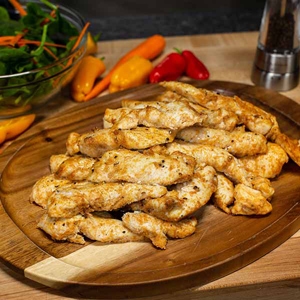 Quick and Easy Baked Chicken Tenders
Hearty Beef and Wild Rice Soup
Top Sirloin Steaks with Cumin, Peppers and Chickpeas
Mustard Chive Flank with Slow-Roasted Tomato Pasta Salad
Rosemary Brined Pork Chops with Cider Mustard Vinaigrette
GF Hazelnut Romesco for Meal Prep
Roasted Vegetables with Carrot Top Pesto for Meal Prep
Easy Overnight Corned Beef Brisket
White Bean and Bacon Salad for Meal Prep
Autumn Leftover Turkey Stir-Fry
One-Pan Filet Mignon with Rosemary Brown Butter and Sautéed Veggies
Leftover Turkey Curry Soup
Chipotle Orange Pork Loin with Sweet Potatoes and Green Beans
Summer Potato Salad With Grilled Bacon And Herbs
Easy Homemade Turkey Gravy
Grilled Veggies With Aged Balsamic
Thanksgiving Turkey With Apple Cider Brine
Quick Beef and Kidney Bean Chili
Gluten-Free Skillet Cornbread with Breakfast Sausage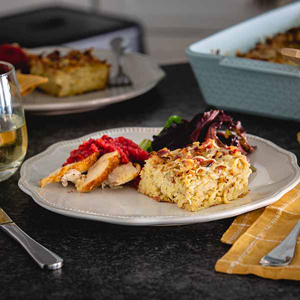 Bacon, Gruyère, and Potato Casserole
Pan-Seared Salmon with Green Goddess Dressing and Radish Apple Salad
Coconut and Lemongrass Bottom Round
Smoky Coffee Rubbed Pulled Pork
Thai Almond Soba Noodle Salad
Bourbon and Bacon Pumpkin Spice Cocktail
Chef Yankel's Filet Beef Bourguignon
Chicken and Black Bean Soup
Herb and White Wine Marinated Chicken Breasts for Meal Prep
Breakfast Sausage Scramble with Avocado
Chicken, Kale and White Bean Soup
One Pot Chicken and Spanish Rice
Sous-Vide Top Sirloin with Za'atar Eggplant
Orange Rosemary Sirloin Tips with Broccoli Rabe
Apple Tart with Bacon Fig Syrup
Sweet and Spicy BBQ Steak Tips
Pork Loin with Sauerkraut and Brussels Sprouts
Mole Coulotte with Tomatillo Salsa
Sweet and Sour NY Strip Tacos with Cabbage Slaw
Bacon Wrapped Filet with Buttermilk Smashed Potatoes and Mushroom Red Wine Sauce
Bacon Cheeseburger Meatballs
Grilled Marinated Chicken Breast with Summer Watermelon Salad
Sticky BBQ Chicken Tenders
One Pot Beef Brisket with Apricots
Cumin and Orange Pork Butt
Madeira Brisket with Almond Parsnip Puree
Coconut Party Wings with GF Ponzu Dipping Sauc
Dijon Mustard and Garlic Smoked Sirloin Tip Kebobs
Instant Pot Pork Carnitas Lettuce Wraps with Salsa Fresca
Sorry, we don't have any recipes for that cut, but the BB Kitchen is developing new recipes every day.