Last Updated on March 27, 2020
Springtime cooking means lots of fresh produce and vibrant flavors. When the weather warms up, all we want are light but satiating dishes with the flavors of the season: fresh herbs, acidic lemon, sweet fruit, and so on.
These healthy and delicious recipes capture the refreshing flavor palate of spring, but will still fill you up. Look out for options like lemon tarragon chicken destined for a salad chock full of seasonal produce, or grilled, peppadew butter-slathered salmon with tomatoes and asparagus.
Wondering what's in season? For just a taste of some of the best seasonal produce spring has to offer, look for fruits and veggies like:
        Lemons
        Herbs like basil, tarragon, rosemary, and more
        Asparagus
        Carrots (especially true, farmer-grown baby carrots)
        Arugula
        Peas
        Strawberries
        Fennel
        Kale
Lemon Tarragon Chicken
This 25-minute lemon tarragon chicken is ideal for meal prep. Simply season with fragrant herbs and aromatics, roast for 20 minutes, and shred. You'll have a perfect spring dish in no time.
All you'll need are some chicken breasts, and some lemon juice, olive oil, garlic, fresh tarragon, salt, and pepper. This shredded chicken is delicious served atop a salad with lots of springtime produce, like arugula, shredded carrots, peas, and anything else that strikes your fancy.
Bonus Recipe: Carrot and Parsley Salad
If you are looking for another great carrot-centric dish for the spring, try our easy-to-make carrot and parsley salad.
Garlic and Lemon Marinated Chicken Breast with Brown Sage Butter
Springtime is all about effortless meals that are light, fragrant, and seasonally-inspired. This garlic and lemon marinated chicken breast with brown sage butter covers all those bases.
While brown butter adds a touch of richness to this easy chicken dinner, lemon, garlic, and parsley bring a bit of acid and bite.
To make this 25-minute meal, you'll quickly marinate chicken breasts (really, for only 5 minutes) in garlic, lemon zest, parsley, olive oil, salt, and pepper. You'll sear the chicken, then finish it off in the oven.
Finish off with a pan sauce of butter, fresh sage, cooking oil, chicken stock, and lemon juice.
Grilled Sockeye Salmon with Peppadew Butter, Asparagus, and Charred Tomatoes
Grilled salmon is the epitome of a spring-inspired meal. Plus, with this grilled sockeye salmon with Peppadew butter, asparagus, and charred tomatoes, you'll be enjoying asparagus in its peak season.
To make this quick and easy salmon meal, you'll make a quick compound butter with Peppadew juice, butter, parsley, and garlic. Yes, the butter tastes amazing on basically anything.
From there, simply grill your salmon, tomatoes, and asparagus, slathering them all liberally with the peppadew butter. It's that easy.
Paleo Salmon Cakes
For something a little heartier, but still bright and delicious, try these Paleo salmon cakes. They take light but satiating salmon and bulk it up with veggies, Paleo breadcrumbs, and creamy mayo.
These fish cakes come together whip-fast—in just 15 minutes flat—and make for a perfect starter or main course. You'll love the zing of Dijon mustard, and the bright flavor of diced red bell peppers and scallions.
Tips: Be sure to make these with fresh salmon, not canned. That flavor just can't be beaten. And don't forget to hit your salmon cakes with a squeeze of fresh lemon for acidity.
Pan-Seared Salmon with Green Goddess Dressing
This pan-seared salmon with green goddess dressing screams spring, from the light and refreshing salad to the green goddess dressing packed with springtime herbs.
If you're looking for a dinner you can get on the table in no time at all, this salad is the one. It comes together in 15 minutes but looks far fancier than any other 15-minute meal.
The salad itself features crisp fruits and veggies like shaved carrots, thinly-sliced green apples, and thinly-sliced radishes. They mingle with soft Bibb lettuce for contrast.
The green goddess dressing combines tarragon, parsley, and chives, among other delicious and creamy ingredients. The pan-seared salmon gets a coating of the same herb blend, packing in even more springy flavor.
Lamb Fattoush with Pomegranate Vinaigrette
This springy lamb fattoush with pomegranate vinaigrette is a great way to use up leftover lamb, but you can sub in any leftover protein you have on hand.
Bright and vibrant, this lamb fattoush—a popular Lebanese salad—is packed with flavor. You'll find veggies like English cucumber, fennel bulb, and grape tomatoes, but also a ton of flavor enhancers. We count pomegranate arils, fresh mint, and tangy crumbled feta among them.
The whole thing gets drizzled in a tangy pomegranate vinaigrette, made with sticky-sweet pomegranate molasses, white wine vinegar, olive oil, and salt.
Don't forget the crispy pita pieces for crunch!
Lemon Basil Chicken Thighs with Jeweled Quinoa and Pesto
Part comfort food, part of a healthy diet, this lemon basil chicken thighs with jeweled quinoa and pesto is all spring.
In one Dutch oven, you'll cook up crispy chicken thighs with a simple lemon basil coating, then a quinoa side dish speckled with springtime veggies. The whole thing gets finished with a homemade arugula pesto.
Springtime produce abounds in this dish, too. In it, you'll find seasonal lemons, basil, asparagus, arugula, and carrots.
Tarragon and Apple Chicken Salad
Are you looking for a meal prep-friendly lunch you'll look forward to eating? Look no further than this tarragon and 3-apple chicken salad.
Flavored with the taste of spring and packed with nutrition, this creamy chicken salad boasts garlic and white wine-marinated chicken, an impossibly creamy tarragon mustard vinaigrette, and three types of apple. There are some pistachios and a bit of celery for crunch, too.
Whip up this chicken salad on a weekend, then enjoy it for lunch all week.
Spring Pea Chicken Salad
It's all in the name with this spring pea chicken salad, which, of course, boasts many flavors of spring.
In this dish, you'll find three spring pea-inspired ingredients: fresh peas, sugar snap peas, and pea shoots. You'll also find chunks of apricot and an apricot balsamic vinaigrette (apricots should be in season, too!)
This chicken is poached in white wine, thyme, and butter, which is quite possibly the easiest way to prepare chicken ever.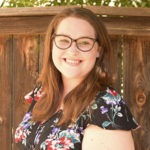 Courtney Hamilton is a writer and editor with over seven years' experience in journalism, blogging, communications, and other media. She has written for publications like PaleoHacks, PaleoPlan, The Center for American Progress, OC Weekly, and more.