Last Updated on April 29, 2021
You're likely familiar with using ground beef in spaghetti or burger recipes, but it's actually one of the most versatile cuts of beef out there. Have you thought to use it in a curry-spiced take on shepherd's pie, or a hearty meatball-stuffed roasted tomato?
If you're looking for new ways to use ground beef, this list is for you. You'll find recipes like:
One-pot cheeseburger pasta
Eggplant sloppy Joes
Ground beef and wild mushroom stroganoff
Chili manchego meatloaf
There's several flavorful, unique ground beef recipes in this compilation. We hope it provides you some fresh inspiration for your meal planning this week.
One-Pot Cheeseburger Pasta
Do you have kids, or do just wanna feed your inner kid? This One-Pot Cheeseburger Pasta combines two universal favorites to delicious effect. Plus, it features simple pantry staples you likely have on hand.
This all comes together in one pot: ground beef is flavored with onion, ground mustard, garlic powder, ketchup, and more. Add to that elbow pasta, beef stock, and melty Havarti cheese, and watch everything coalesce in the pot to an ooey-gooey, indulgent pasta.
Eggplant Sloppy Joes
Here's a healthier take on a nostalgic meal: Eggplant Sloppy Joes. You'll want your knife and fork for this one.
The sloppy Joe mixture is reminiscent of the classic stuff you grew up on, with ground beef, diced peppers and onions, tomato sauce, ketchup, apple cider vinegar, dry mustard, garlic powder, and a hint of honey.
It's the beautifully charred eggplant "buns" that set this low-carb sloppy Joe apart. Simply brush eggplant rounds with olive oil, sprinkle with salt and pepper, and sear on a hot grill pan. Finish it off in the oven for about five minutes to soften them up.
Spiced-Up Shepherd's Pie
Shepherd's pie is a classic use for ground beef, but this Spiced-Up Shepherd's Pie brings in unique flavors, with additions like muchi curry powder and garam masala.
This shepherd's pie is a casserole dish full of comfort, loaded with nourishing vegetables and pleasant spices. In addition to ground beef, you'll find a filling with diced butternut squash, carrots, peas, garbanzo beans, tomatoes, and onion. The seasoning blend features warming spices like cinnamon, garam masala, and muchi curry powder—an aromatic blend of 13 spices, and the hottest type of curry powder.
The creamy potato topping is novel, too. Instead of classic mashed potatoes, you'll find a spiced blend of cauliflower and sweet potatoes.
Ground Beef and Wild Mushroom Stroganoff 
This 30-minute Ground Beef and Wild Mushroom Stroganoff is simple, nourishing, and made unique thanks to the addition of wild mushrooms.
The wild mushrooms give this stroganoff a distinct earthiness, and marry beautifully with ground beef. You can, of course, use whichever mushrooms you have access to. Instead of traditional sour cream, this stroganoff gets its richness and creaminess from a hearty dose of high protein Greek yogurt.
Serve this stroganoff alongside noodles, rice, zoodles, or a simple green salad. You can't go wrong.
Chili Manchego Meatloaf
We all know and love meatloaf, but if you're looking for a new way to use ground beef, try this Chili Manchego Meatloaf.
Warm, smoky spices flavor the beef, while nutty Manchego cheese adds a delicious, melty layer to this meatloaf. While it may sound a bit more elevated than your classic meatloaf, it's as simple as ever to prepare. Just mix together ground beef with diced red pepper and onion, eggs, milk, bread crumbs, and key spices like smoked paprika and chili powder. Mold it into a loaf and bake away.
In the final 10 minutes, layer on that beautiful Manchego cheese and let it get all melty in the oven. That's it!
Gluten-Free Beefy Mac n' Cheese
A good, simple mac n' cheese is hard to beat, but you can make it even more of a meal with the addition of some ground beef. Just follow this easy Gluten-Free Beefy Mac n' Cheese.
This extra cheesy mac uses some smart substitutions to make it gluten-free, like tapioca flour for the roux and gluten-free elbow pasta. It's a bit non-traditional with the cheese choice, too, opting for mildly nutty Swiss cheese as the base of the sauce.
While unique, it's 100 percent delicious, and a crowd pleaser for sure.
Mediterranean Meatballs
If we were to list the top ways to use ground beef, meatballs would have to make it into your top 3, right? Still, we bet you've never had meatballs like these Mediterranean Meatballs.
Classic Greek flavors abound in these zingy, juicy little meatballs, thanks to fresh herbs like oregano and mint. Plus, there's plenty of aromatic garlic and tangy feta.
You can serve these meatballs with some pita bread and hummus or tzatziki. Or, serve them alongside a bright green salad for a fresh meal.
Roasted Stuffed Tomatoes
A giant meatball tucked into a ripe tomato and roasted to perfection—that's what you get with these Roasted Stuffed Tomatoes.
If you're struggling to think up new ways to use ground beef, these roasted stuffed tomatoes are juicy, mildly sweet, and the perfect unique dinner. It features classic Italian flavors like garlic, dried oregano, and dried basil.
Look for large, firm tomatoes with flat bottoms for this recipe. These are ideal for stuffing.
With these unexpected ground beef recipes, you can refresh your typical ground beef recipe rotation. We hope you love them as much as we do.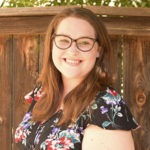 Courtney Hamilton is a writer and editor with over seven years' experience in journalism, blogging, communications, and other media. She has written for publications like PaleoHacks, PaleoPlan, The Center for American Progress, OC Weekly, and more.