Pork butt is an unbelievably versatile cut of meat: It works as a roast, for pulled pork, and responds well to virtually any flavor profile.
It's a barbecue classic, but it has many other uses, thanks to its rich marbling and plenty of connective tissue for added flavor.
You can, of course, douse it in your favorite BBQ sauce—we've got recipes for that! But, you could also prep an Italian-inspired roast with fennel and tomato or use it as the carnitas filling for flavorful lettuce-wraps.
Fun fact: While dubbed pork "butt," this cut actually hails from the shoulder. The misnomer dates back to colonial America when New England butchers used to pack this cut into barrels called "butts."
The ideal way to prepare pork butt involves low and slow cooking, along with plenty of moisture. We've got lots of recipes to get you started, so read on.
Cumin and Orange Pork Butt
Packed with Latin-inspired flair, this cumin and orange pork butt is a simple dinner that tastes anything but.
Cumin adds distinctive spice to the dish, while an orange juice braise lends beautiful acidity and slight sweetness. Beyond those two ingredients, you'll only need your pork butt, a few more spices, whole oranges, and onions.
The preparation is just as simple. Just dry rub your pork, and then braise with orange juice, whole orange, and onion. Make sure you don't forget to take a basting break, however.
Fennel and Tomato Italian Pork Butt
Jumping from Latin-inspired to Italian-inspired, this fennel and tomato Italian pork butt has Sunday night dinner written all over it.
This wholesome meal is made even better by its uber-simple prep: Just dump everything in the slow cooker, and let those beautiful flavors marry all day long. The only other step? A quick sear of your pork butt, along with a sauté of a few veggies and aromatics.
We're talking fresh bulbs of fennel,  garlic cloves, tomatoes, and balsamic vinegar. Yes, your home will smell heavenly while this cooks.
Smoky Coffee Rubbed Pulled Pork
You've had pulled pork before, but not like this smoky coffee rubbed pulled pork.
If you haven't thought to rub down your pork butt with coffee before, let this recipe convince you. Coffee adds a slightly bitter flavor that melds wonderfully with the rest of the dry rub, including chipotle powder, smoked paprika, ground ginger, mustard powder, ground coriander, brown sugar, and salt.
You'll braise this incredibly flavorful pulled pork in apple cider and onion. Here's a pro-tip to achieving fall-apart tender meat: Cook your pork butt low and slow with plenty of moisture. Steam is crucial to a tender, juicy texture.
Keto BBQ Pulled Pork
Craving sweet and sticky pulled pork, but trying to keep keto? We've got you covered with this Keto BBQ pulled pork.
Did we mention it's a 4-ingredient recipe? While simple and straightforward, no flavor is sacrificed. You'll combine your pork butt with your preferred sugar-free, keto-friendly barbecue sauce. Onions and garlic add even more savory flavor.
You have two options for preparing this uber-simple pulled pork. Dump it in the slow cooker for an all-day braise, or you can pressure cook it in your Instant Pot for fork-tender pulled pork in a fraction of the time.
Pile this pulled pork high on some Keto bread, or serve it with a crunchy and creamy slaw.
Instant Pot Pork Carnitas Lettuce Wraps with Salsa Fresca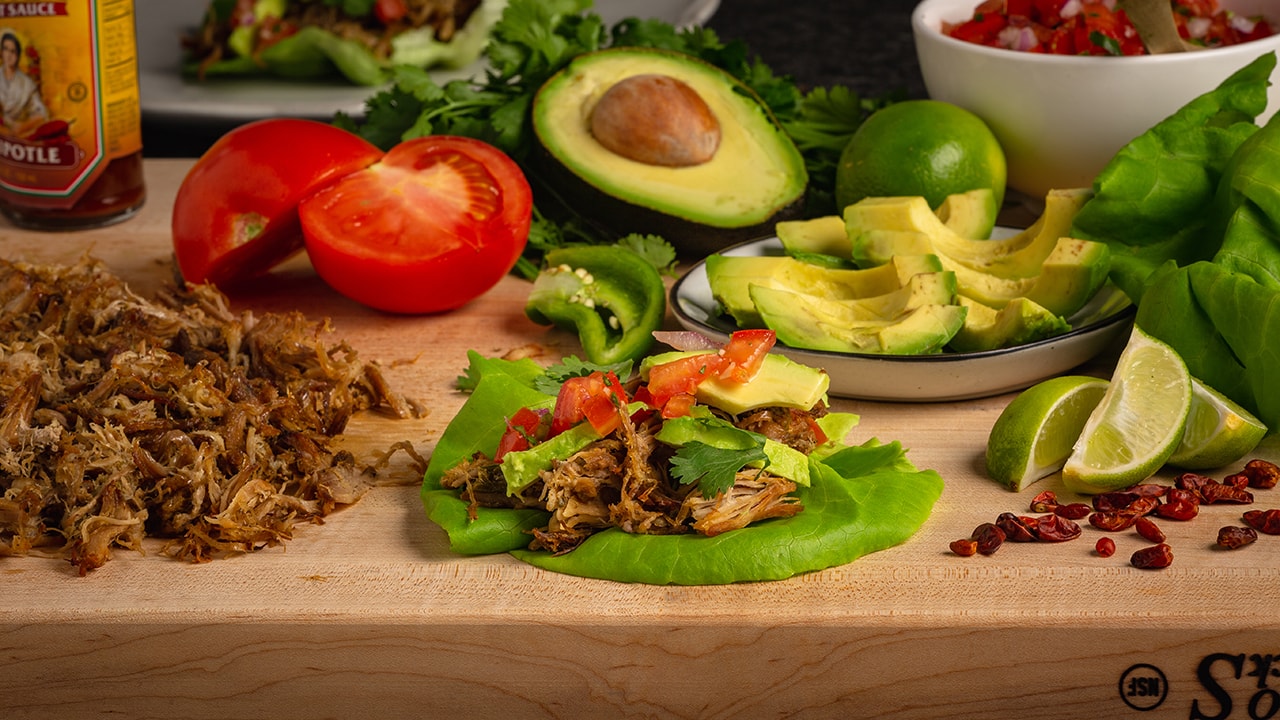 Pork butt is good for a lot more than just pulled pork. Namely, these Instant Pot pork carnitas lettuce wraps with salsa fresca.
If you're trying to stick to wholesome eats, you'll be happy to know this recipe is Paleo and Whole 30-friendly. It's fairly low-carb too, and packed with nutritious ingredients.
To start, you'll need to make your carnitas in the Instant Pot. Rub your pork butt with a blend of dried oregano, cumin, salt, and pepper. In the Instant Pot, sear your pork butt in some avocado oil. (You may want to cut up the meat and do this in batches).
Braise the pork in a mixture of orange and lime juice, garlic, and jalapeno. Let the pressure cooker work its whip-fast magic.
You'll serve these carnitas atop lettuce wraps with a homemade salsa fresca and hearty chunks of avocado.
Slow-Cooker Cajun Pork Butt with Jambalaya Rice
With robust flavor and a hint of heat, Cajun spice is the perfect seasoning for pork butt. That's why we recommend you give this slow-cooker cajun pork butt with jambalaya rice a try.
As if you needed another reason to love this recipe, it's a complete meal with the addition of the vibrant and spicy jambalaya rice.
To get started, you'll cook up the pork butt in the slow cooker—one of the best ways to prepping this cut—with Cajun spice and beef broth. Just before serving, prep your jambalaya rice, complete with multicolored bell peppers, onions, smoked paprika, Cajun spice, and, of course, long-grain rice.
Garnish the whole thing with parsley for a flavor-packed meal.
Pork Butt Roast with Mushroom Gravy
We've been focused on pork butt recipes that result in "pulled pork" texture, and for good reason—it's delicious. But this pork butt roast with mushroom gravy mixes things up, serving up unbelievably tender slices of pork butt like a roast.
Once again, we prepare this recipe in the slow cooker, which achieves the ideal balance of low and slow cooking with plenty of moisture.
This pork butt roasts all day with garlic, thyme, dried sage, onion, cremini mushrooms, chicken broth, and bay leaves. There's a generous dose of sea salt and pepper, too.
Once ready, you'll use the drippings to prepare an unbelievable mushroom gravy that's just begging for a scoop of mashed potatoes.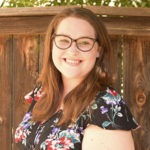 Courtney Hamilton is a writer and editor with over seven years' experience in journalism, blogging, communications, and other media. She has written for publications like PaleoHacks, PaleoPlan, The Center for American Progress, OC Weekly, and more.