Do you like surf and turf? This classic seafood and red meat pairing is served in steakhouses throughout North America, as well as in the United Kingdom and Australia. No need for a fancy restaurant or complex recipe, we have a guide to put together a fantastic surf and turf dinner in your own kitchen.
The origin of the term is unclear, though the earliest known citation stems from the Los Angeles Times in 1961. It's long been a symbol of middle and upper-class Americana to pair steak and lobster, or some other variation.
We think steak and lobster is great, but if you're looking to prepare a surf and turf meal at home, we've compiled here recipes that are way more accessible.
Here are a few surf and turf pairings we'd suggest:
Bacon-wrapped filet with pan-seared scallops
Garlic-crusted ribeye with Paleo salmon cakes
Tri-tip with chimichurri and pan-seared salmon with radish apple salad
5-minute marinade NY Strip with seared scallops and bacon lemon cream sauce
One-pan filet mignon and veggies with salmon croquettes
You'll find all of these recipes, plus some side dish ideas, on the list below. You can, of course, mix and match these recipes however you see fit. Enjoy your surf and turf dinner!
Surf:

Salmon Croquettes with Remoulade
Looking to add a crispy bite to your surf and turf meal? Skip the deep-fried shrimp and try these Salmon croquettes with remoulade.
Flavor is built into every step of this recipe, from the white wine-poached salmon to the tarragon-packed batter. Don't forget the tangy, creamy remoulade, made with capers, pickles, lemon juice, mayo, and more.
All that layering of flavors makes for a bold bite, but these aren't difficult to whip up. They're ready in just 30 minutes.
Seared Scallops with Bacon Lemon Cream Sauce
The perfect, succulent appetizer to start your surf and turf meal, these seared scallops with bacon lemon cream sauce are deceptively simple to prepare.
You'll only need a handful of ingredients: sea scallops, bacon, lemon, cream, salt, pepper, and your preferred cooking fat.
Simple to make as they may be, the pairing of juicy scallops, crisp bacon, and vibrant lemon cream sauce makes for a beautifully complex flavor profile. You won't regret making these.
Pan-Seared Salmon with Green Goddess Dressing and Radish Apple Salad
Salad course? Seafood? Kill two surf and turf birds with one stone with this pan-seared salmon with green goddess dressing and radish apple salad recipe.
Crispy, sweet and refreshing, this radish apple salad is delectable once dressed with a greens-packed dressing. We're talking fresh tarragon, fresh parsley, and chives with a tangy yogurt base.
The salmon is marinated with the same blend of herbs, making this dish a vibrant one to counteract the heartiness of steak.
Simple Pan-Seared Scallops
Sometimes, surf and turf doesn't have to be a big affair. These simple pan-seared scallops add a bright seafood dish to your spread, with very little effort.
To make these, simply season your scallops with salt and pepper and sear in your favorite high-temp cooking fat. For absolute, to-die-for richness, make a quick pan sauce with butter, garlic, ginger, Fresno pepper, lemon juice, and fresh parsley.
Paleo Salmon Cakes
You've had crab cakes, but if you haven't yet whipped up these Paleo salmon cakes, the time is now.
These cakes don't rely on canned anything—they're made with wild Alaskan sockeye salmon and are absolutely packed with flavor. You can thank the blend of red bell pepper, scallions, Paleo bread crumbs (or almond flour), mayo, and Dijon for that.
These salmon cakes cook up quickly—they're ready in 15 minutes flat. Once again, surf and turf doesn't have to be hard.
Turf: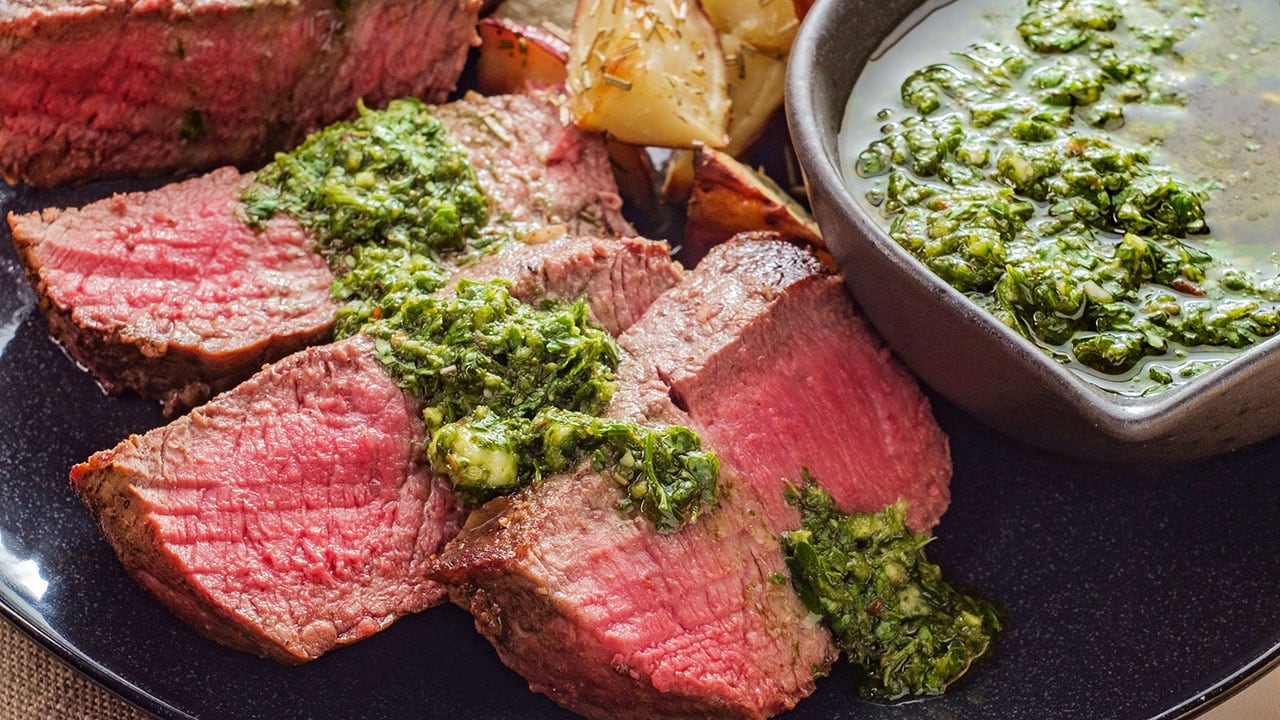 Tri-Tip with Poblano-Lime Chimichurri
Need to feed a crowd, and still want to serve surf and turf? Opt for a larger beef roast, like this tri-tip with poblano-lime chimichurri.
Lean and mild, tri-tip is perfectly complemented by a spicy, bold sauce like chimichurri. The vibrant green sauce pairs well with the seafood side of your meal, too.
This tri-tip needs a little advance prep: Just remember to salt it and let it sit, uncovered, in the refrigerator overnight. From there, you'll just sear and roast the cut.
The chimichurri takes minutes to prepare: Just combine garlic, poblano pepper, cilantro, parsley, lime juice, olive oil, salt, and pepper. Pro tip: Make this one day ahead of time to let the flavors really meld.
NY Strip with 5-Minute Marinade and Bruschetta Salad
What's more classic than NY strip steak and seafood? With this NY strip with 5-minute marinade and bruschetta salad recipe, you'll get a delectable salad, too.
The 5-minute marinade does double duty as the salad dressing. To make the easy marinade/dressing, combine balsamic vinegar, olive oil, Italian seasoning, chili flakes, garlic, lemon zest, salt, and pepper.
Let the steaks marinate for 5 minutes, then quickly sear them and finish them off in the oven. The salad, with cherry tomatoes, mozzarella, and croutons, comes together just as fast.
One-Pan Filet Mignon with Rosemary Brown Butter and Sauteed Veggies
It wouldn't be a surf and turf list without a couple of indulgent cuts, like filet mignon. We especially love this elegant one-pan filet mignon with rosemary brown butter and sauteed veggies.
Made in just one pan, this dish maximizes flavor with each step. You'll find brown butter and rosemary flavors the filet mignon and roasted carrots, while the sauteed Brussels sprouts and peas soak up some of that nutty, buttery goodness too.
Bacon-Wrapped Filet with Buttermilk Smashed Potatoes and Mushroom Red Wine Sauce
Ready for a seriously decadent meal? This bacon-wrapped filet with buttermilk smashed potatoes and mushroom red wine sauce recipe is perfect for a date night in.
Tender filet gets wrapped with smoky bacon, served atop creamy smashed potatoes (with way more texture than their mashed counterpart). Drizzle the whole thing with a rich mushroom and red wine pan sauce.
If you'd like to continue the theme of indulgence, pair this with a scallop recipe from this list. Lighten things up with the pan-seared salmon and radish apple salad.
Garlic Crusted Ribeye with Smoky Hazelnut Scalloped Potatoes
Have you tasted a delicious steak encrusted in garlic? This garlic crusted ribeye with smoke hazelnut scalloped potatoes recipe will make you a convert.
All you need is garlic, ghee, olive oil, salt, pepper, and some ribeye steaks. You'll first roast your garlic, turning it into an intensely flavorful paste for the steaks. That's all it takes to build bold garlicky notes with a hint of sweetness.
Don't skip the smoky hazelnut scalloped potatoes, which are complete with Yukon gold potatoes, pancetta, and hazelnuts.