Last Updated on September 29, 2020
Do you try to eat in-season? There are a lot of great reasons to opt for seasonal fruits and veggies. They're tastier, more nutritious, and better for the environment.
They're also a good bit more affordable, and more likely to be sourced locally—because they don't have to be imported from afar.
Here are some of the fruits and veggies that are in-season in much of the United States this summer:
Vegetables
Tomatoes

Carrots

Cucumbers

Lettuce

Eggplants

Various peppers

Zucchini

Radishes

Corn

Arugula
Fruits
Apricots

Cherries

Watermelon

Citrus

Melon

Pears

Stone fruits (peach, plum, nectarine)

Berries (strawberry, blueberry, raspberry)
Today, we've compiled a list of recipes that feature some of this bountiful in-season produce. They're bright, summery, and delicious. We hope they inspire you to cook up some seasonal fare in your own kitchen!
1. Grilled Sockeye Salmon with Peppadew Butter, Asparagus, and Charred Tomatoes
Is there anything more summery than a delicious piece of grilled fish and in-season veggies? This grilled sockeye salmon with Peppadew butter, asparagus, and charred tomatoes is the perfect example.
You'll find vibrant peppers and juicy tomatoes in season right about now, so showcase them in this light and delicious meal. The Peppadew pepper lends incredible flavor to a compound butter that you'll want to douse everything with, while the tomatoes burst with flavor thanks to their charring on the grill.
This summery combo works well with just-a-little sweet salmon and earthy asparagus.
2. Grilled Greek Marinated Chicken Breast with Peach and Endive Salad
Channel Mediterranean vibes with this grilled Greek marinated chicken breast with peach and endive salad recipe, which uses in-season peaches, corn, and lettuce to build a crisp accompanying salad.
To make your Greek-inspired chicken breasts, keep it simple with a premade Greek vinaigrette. Marinate your chicken in the vinaigrette overnight to lock in amazing flavor.
While the chicken grills, take the opportunity to grill some in-season corn. The char contrasts beautifully with the natural sweetness of corn. You'll use that corn in the accompanying salad, which also features in-season peaches and endive lettuce.
3. Grilled Veggies with Aged Balsamic
There isn't a simpler, more delicious way to use up in-season produce than with this grilled veggies with aged balsamic recipe.
You can opt for virtually any assortment from the produce you have on hand—the char of the grill with a kiss of aged balsamic, goes well with everything. This recipe opts for a blend of onion, asparagus, portobello mushrooms, corn, Japanese eggplants, and an assortment of peppers.
Add a little bit of salt, pepper, and oil, and you've got a complete seasonal side dish.
4. Ginger-Soy Ranch Steaks with Cucumber and Herbs
Cucumbers are an uber-refreshing, in-season veggie, so put them to good use in this ginger-soy ranch steaks with cucumber and herbs recipe.
Ranch steaks are marinated in a flavorful blend of garlic, fresh ginger, brown sugar, soy sauce, fish sauce, and lime juice and zest. This Asian-inspired marinade keeps the hearty steaks fresh and light, and perfect for accompanying a bright cucumber-radish salad.
To make that salad, you'll combine in-season cucumbers and radishes with scallion greens, and fresh herbs including mint, cilantro, and basil. The dressing is simple because all the other flavors shine: Just drizzle on a bit of olive oil, salt, and lime juice.
5. Grilled Peach Shortcake
You didn't think we'd throw in a grilled, in-season dessert, did you?
We did. This grilled peach shortcake deserves a place in your summer cooking adventures.
With this recipe, you'll get sweet, caramelized grilled peaches; tall, buttery biscuits; and thick, decadent whipped cream. You might never return to the strawberry version again.
Peaches are a summer mainstay, along with their stone fruit cousins nectarines and plums. You could totally opt for those stone fruits in this recipe too, or even a blend of all three. Work with what you have on hand.
6. Sirloin Cap with Peppers and Onions
Here's an intensely flavorful, seasonal meal you can make on the grill: sirloin cap with peppers and onions.
If you've never tried making a roast like sirloin cap (also known as picanha or coulotte) on the grill, now is the time. A bold, blended marinade gives this roast its distinctive flavor, thanks to ingredients like garlic, onion, Fresno chile, beer, citrus juices, and more.
Joining the roast is a bevy of in-season peppers and onions, which you'll prepare with a skillet directly on the grill. Make sure to use one that withstands high heat.
7. Just Peachy! BBQ Chicken Thighs
In-season peaches don't just have to be for dessert (though we love that grilled peach shortcake). Try them in this Just Peachy! BBQ chicken thighs recipe, too.
A key element of this recipe is the BBQ sauce from scratch. You could opt for something in a bottle, but you might be surprised by how simple it is to whip up the stuff at home. You'll need ingredients like onion, apple cider vinegar, ketchup, tamari, and more. That, and a small skillet.
From there, you'll grill your peaches, and roll your chicken thighs in the sauce and grill, too. This recipe is delicious served atop a base of leafy greens, with some balsamic vinaigrette.
8. Bacon-Wrapped Stuffed Grilled Tomatoes
Fresh summer tomatoes are at their peak in juiciness, so it only makes sense you'd want to grill them. These bacon-wrapped stuffed grilled tomatoes are a great start.
That name may be a mouthful, but the ingredients list is simple. You'll just need tomatoes (flat-bottomed ones work best, so try beefsteak or heirloom), fresh mozzarella, bacon, basil, balsamic glaze, and a bit of salt and pepper. That's it!
To assemble your tomatoes, scoop out their inner flesh and fill it with mozzarella. Wrap with bacon, and secure with toothpicks. Put them in a grill pan, and grill away, for about 25 minutes, or until the bacon is golden and the cheese is bubbly. Yum.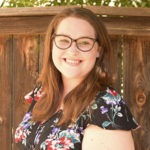 Courtney Hamilton is a writer and editor with over seven years' experience in journalism, blogging, communications, and other media. She has written for publications like PaleoHacks, PaleoPlan, The Center for American Progress, OC Weekly, and more.