Last Updated on September 16, 2019
We're officially back-to-school this week, but I refuse to yield to fall just yet, despite the chill in the air in the evenings. There are still tomatoes and corn to be eaten!
Needless to say, the first full week back to school can be a long one. Even if the kids are used to the structure of camp, back-to-school jitters are no joke. The aim, as ever, is to eat well without trying too hard.
ButcherBox makes that easy — I pulled rib-eyes and a sirloin cap roast from the freezer to set us up for the week.
Sunday: Beach days are on the wane so we eke out one more and get home late, sandy and spent.
I'd salted the rib-eye in anticipation of a late return, and grill them along with some whole scallions. When the beef is rare-to-medium and scallions are charred and tender, I pull them both from the grill and top with a few pats of miso butter (mix equal parts miso and room temp unsalted butter). While the steak rests, I slice up a couple of cucumbers, sprinkle them with salt and rice vinegar, and serve them alongside the steak and onions.
Monday: We're headed to a potluck so I chop up the leftover grilled scallions and cucumber and add them to chilled soba noodles. I add a generous amount of sesame seeds and toss it all with a quick miso-ginger dressing.
Tuesday: Still in grill mode, but this time heads of romaine that are cut vertically down the center and rubbed with olive oil and salt, plus ears of corn. The lettuce takes just a few minutes on the grill, and the resulting salad — grilled romaine and corn with sliced ribeye (reserved from Sunday's dinner) and thick chunks of avocado in a lime vinaigrette — is delicious and satisfying.
Wednesday: First day of school-eve so I put together a major snack plate while we made sure that the kiddos had everything they needed for the next day. This also gave me the chance to clean a few odds and ends out of the fridge and see what I could use for steak marinade the next day.
Thursday: We recap the first day of the new school year at dinnertime. I took a minute in the morning to mix together a marinade and settle the sirloin cap into it for the day. At dinnertime, I brought a cast-iron skillet out to the grill and cooked peppers and onions in it while I kept an eye on the steak (recipe below).
Friday: We made it through the first week of school! Takeout pizza for all, with a big salad to go alongside.
Sirloin Cap (Coulotte) with Peppers and Onions Recipe:
Sirloin cap, aka coulotte or picanha, is a lesser-known cut from the top of the larger sirloin primal. The roasts from Butcher Box come in slightly different thicknesses, and you can trim them into steaks or leave whole and treat as a roast.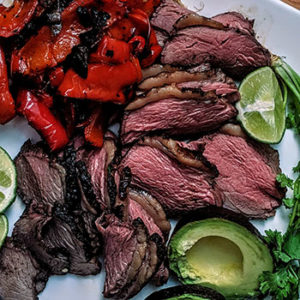 Ingredients
1 x 1.5

lbs

ButcherBox Coulotte/Top Sirloin Cap

2

tsp

salt

plus more to taste

5

garlic cloves

peeled and minced

½

small

onion

peeled and minced

1

fresno pepper

peeled and minced

1

tbsp

granulated sugar

½

cup

beer, ale or larger

(not a dark beer)

1

orange

juice and zest

½

bunch

cilantro leaves

(and stems)

3

tbsp

olive oil

1

red onion

sliced

2

red bell pepper

sliced
Instructions
Rub the roast with the salt and set aside.

Combine the garlic, onion, and chile in a medium-sized bowl. Stir in the sugar, beer, orange juice and zest, lime juice, cilantro, 2 tablespoons olive oil, and a pinch of salt. Blend the mixture together using an immersion blender. Taste and adjust seasoning.

Place the roast in a shallow bowl or baking dish and cover with the orange juice mixture. Marinate for at least an hour or overnight.

Remove meat from the fridge at least 30 minutes before grilling. Light the grill (if using charcoal, wait until the coals are glowing and ashy on top; if using gas, preheat to high on one side and medium-low on the other). Pat the meat dry and place over the hot coals, fat side down. Sear for 2 minutes, then flip and sear again.

Move the steak over to the edge of the coals or cooler side of the grill, close the lid and adjust the vents to keep the grill at around 350°F, and cook for an additional 20-30 minutes, or until a meat thermometer reaches 120°F (the timing will vary depending on the thickness of the roast, so make sure you have a meat thermometer you trust).

While the steak is cooking, heat a skillet over the center of the coals and add 1 tablespoon olive oil. When that shimmers, add the peppers, onions, and a pinch of salt and cook, stirring occasionally until the peppers and onions have softened, blackened a bit at the edges, and cooked down, 15 to 20 minutes.

Remove the roast from heat, transfer to a cutting board, and cover with foil. Rest 15 to 20 minutes, then thinly slice and transfer to a platter. Stir a squeeze of lime into the peppers and onions.

Serve alongside the steak with warm flour tortillas, sliced avocado, and lime wedges.
You can read each week's post by clicking on these links: Intro / Fall Home Cooking #2 / Fall Home Cooking #3 / Fall Home Cooking #4. 
Leigh Belanger is a writer, editor, and content strategist. Her 2018 cookbook, My Kitchen Chalkboard, features a year of seasonal family dinners with menu ideas and meal planning tips to help make home cooking easier.