Last Updated on July 6, 2021
When you're faced with a pound of ground beef, chances are you know what to do. You can make burgers, taco filling, meatballs, and more. It's a pretty clear picture. But when it comes to less-common ground pork, you might need some help developing your repertoire.
Keep in mind that almost any recipe calling for ground beef will work with pork, too. But pork's milder flavor means it's even more versatile than beef. It's great for dumpling filling, browned and tossed with pasta, or flavored with garlic and scallions for Chinese-inspired meatballs.
Its milder flavor and higher fat content also make ground pork an ideal base for sausage—something meat eaters everywhere can get behind. Making pork-based sausage at home is simply a matter of seasoning the pork according to the flavor profile you're after, then giving the meat some time to let the flavors absorb, and finally forming it into whatever shape you want—no casing necessary.
Breakfast Sausage:
With just three added ingredients, breakfast sausage is the simplest path to a morning protein boost. Just mix kosher salt, freshly ground black pepper, and either fresh or dried sage to a pound of meat. You could cook immediately, but it's even better after sitting for at least 24 hours to let the flavors absorb thoroughly throughout the meat. You can:
Form it into little patties or keep it loose.
Freeze patties for future use.
Cook some ahead so you have a quick grab and go option in the morning.
Crumble cooked sausage over scrambled eggs or tuck into breakfast tacos.
Make egg cups with breakfast sausage and wilted spinach.
Mexican-Style Chorizo:
Mexican-Style chorizo's cousin is the ropy cured Spanish sausage, flavored with smoked paprika, that you might see hanging in a fancy deli or salumeria. For Mexican-style, start with our fresh ground pork and add ground chili powder and garlic powder. To get some of that smoky profile, you could use smoked paprika or the adobo sauce from a jar of chipotle peppers. Dial up the spice by adding more chili powder (but you can't dial it down—so take it slow). You can:
Use in tacos instead of ground beef.
Add to huevos rancheros, tortas, or burritos.
Add to pasta with cream sauce (or no sauce – there's a lot of flavor in this sausage!).
Hot Italian Sausage: 
A mix of spices, including ground fennel and garlic for this not-too-spicy hot Italian sausage allows you to increase the spiciness if you choose.
Add to Caesar salad (or any salad).
Add to marinara sauce and pasta.
Sprinkle on pizza.
Form into a patty grill and serve on a bun with sautéed peppers and onions in a little twist to the classic sausage and peppers.
Spicy Curry Sausage: 
With red curry paste for heat and fish sauce for umami flavor, Thai-inspired spicy curry sausage is full of flavor. Use it in all kinds of delicious ways. You can:
Form into small meatballs, roast and add to lettuce wraps with shredded cabbage, carrot, and cilantro.
Use meatballs in a spicy, brothy soup.
Use patties in a bahn-mi sandwich.
Add loose sausage to stir-fried rice.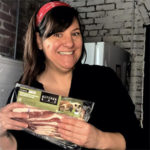 Emilie Abijanac is a graduate of New England Culinary Institute with over 20 years of catering experience in Boston. Emilie was the Sous Chef for East Meets West Catering and has worked with Kate's Table and La Fête. Emilie was also the culinary director of ButcherBox.