Last Updated on September 7, 2022
The coming of spring means more and more opportunities to cook outside.
And while we are HUGE fans of perfectly grilled cheeseburgers, we also believe in the importance of continually trying something new. So recently, we've started to offer salmon burgers as an option for some ButcherBox members. If you've never had one before, a salmon burger is a perfect, light alternative to a beef burger.
While you could go the route of creating a salmon burger in the manner of a traditional beef burger—grilled and smothered with onions, pickles, tomatoes—we think there are far more delicious options you can attempt.
Here is what we'll cover below:
Cooking a salmon burger.
Some mayonnaise-based toppings.
An array of aioli-based toppings.
How to Cook a Salmon Burger
First, we need to breakdown the essential first step of actually cooking a salmon burger. Recipes for making salmon burgers from scratch can be found anywhere—most involve blending canned salmon with a combination of mayonnaise, breadcrumbs, dijon mustard, and lemon juice in a food processor.
But luckily, ButcherBox salmon patties come pre-made—so you can avoid the messy clean up that will be necessary while attempting the homemade variety.
So all you have to do is decide which way you want to cook your salmon burger.
Grilling a Salmon Burger – This is our favorite way to cook a salmon burger. Once your grill is warmed up, lightly coat the grates with olive oil. Simply place your salmon burger patties on the grill and cook 4-5 minutes each side. Your salmon burger will be done in about 8-10 minutes, with the outside slightly browned.
Cooking a Salmon Burger on the Stovetop – You can also easily cook a salmon burger in a pan or, as we prefer, on a skillet. Once you've coated the skillet with some olive oil, cook the salmon burger over medium-high heat for 4-5 minutes each side. As with the grilling method, it will be done in 8-10 minutes.
Cooking a Salmon Burger in the Oven – After preheating the oven to 400°F, place the frozen salmon burger patties on a lightly oiled cooking sheet. Cook a bit longer than the previous methods; 6-8 minutes each side while flipping in between. Total cooking time will be 12-16 minutes.
Best Sauces to Top a Salmon Burger
Salmon burgers are best covered with condiments that are mayonnaise- or aioli-based.
The sentence above might have some of you scratching your head and asking, "Isn't roasted garlic aioli just a fancy mayonnaise?" 
This is one of the little culinary confusions that I am very passionate about explaining. Mayonnaise is created by whipping together egg yolks and oil, like avocado oil, to a point that it emulsifies into a creamy sauce. Aioli is traditionally created by doing the same with roasted garlic and olive oil. So not only is roasted garlic aioli redundant—like saying garlic roasted garlic mayo—but aioli is often made with store bought mayonnaise with the addition of roasted garlic.
On to the sauces:
Tartar sauce – Tartar sauce is a super easy to make condiment combining mayonnaise with sweet or dill relish. Tip: In a pinch, minced sweet gherkins or dill pickles can always be substituted.
Remoulade – This is where the influence of the French cuisine was raised on shines through a bit. You could consider remoulade a "mother sauce" to tartar sauce. Follow similar directions for tartar sauce but add minced capers for some extra brine tartness and some herbs like tarragon, dill or parsley, or any similar combination to balance the flavor. Check out my quick and easy remoulade directions in our recipe for Salmon Croquettes with Remoulade.
Different Types of Aioli

Wasabi aioli – Remember a little wasabi goes a long way. Gradually add small amounts of wasabi to your aioli for your desired spiciness.
Lemon aioli – Just zest one lemon into one cup of aioli.
Sesame soy aioli – Take an aioli or 1 cup of mayonnaise and add 1/2 teaspoon of sesame oil and 1 tablespoon soy sauce or Tamari. If you really feel like getting fancy, add 1 teaspoon of black sesame seeds.
Herb aioli – Add 1 tablespoon of minced herbs (chives or tarragon or dill) to aioli or mayonnaise.
Unique Ways to Top a Salmon Burger
Like we said before, you can always use the usual burger toppings of lettuce, tomato, onion, but why wouldn't you try the magic created by some of these toppings.
Salsa – You could use a tomato-based salsa but that won't create the pure happiness of flavors that you'll get with some fruit-based salsas. Think what a sweet and savory pineapple salsa will do to a salmon burger. Drooling yet? Any tropical fruit can be substituted for pineapple, but make sure you grill or roast the fruit if you are making at home. This step caramelizes the natural sugars for a great toasty flavor. Check out my simple pineapple salsa recipe here: Seared Salmon with Pineapple Salsa.
Avocado – Mash it up, dice it up, slice it up. Call it guacamole or avocado salsa. We all know avocado is just tasty on anything no matter how you prepare it.
Pickled Veggies – Keep it simple with some pickled red onions. Or, mix it up with a combination of carrots, cucumbers, and red onions. You can use pickled veggies for tacos, sandwiches, and salads, so follow my recipe included in our BB Fried Chicken Sandwich recipe. Make a big batch, they're pickles so they'll keep for a while.
Bacon – Need I say anything more?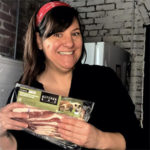 Emilie Abijanac is a graduate of New England Culinary Institute with over 20 years of catering experience in Boston. Emilie was the Sous Chef for East Meets West Catering and has worked with Kate's Table and La Fête. Emilie was also the culinary director of ButcherBox.