Last Updated on November 21, 2023
Ground poultry has a reputation for being a leaner alternative to ground beef, but each type is delicious in their own right. In this guide, we'll break down the differences between ground turkey vs. ground chicken to give you a better understanding of each protein. You'll learn:
Where they're sourced from
The difference between ground turkey vs. ground chicken
How to use each protein
While there's a lot to consider when choosing ground turkey vs. ground chicken, you really can't go wrong with either one. Complete with four delicious recipes, we hope this guide gives you the confidence to experiment with both proteins in the kitchen.
What Is Ground Turkey?
Commonly found in the meat department of your grocery store, ground turkey is made by combining a mixture of dark and light meat turkey with remaining skin and fat. You can also get ground turkey through ButcherBox. The result is a ground meat mixture that's lean, high in protein, and easily used in many delicious applications, like chili, burgers, meatballs, and rice bowls.
Most ground turkey is made from extra turkey thighs and drumsticks, rather than more expensive turkey breast meat. For that reason, it's usually a pretty affordable cut of ground meat. It contains a fat percentage under 15%, though you can often find it even leaner. It's a popular substitute for ground beef, which has a higher fat and calorie content.
FYI: Many mainstream ground turkey brands will take turkey meat, skin, and fat off the bone and process it with additives to achieve an appealing color and non-crumbly texture.
You can also grind your own turkey at home using a meat grinder or food processor.
What Is Ground Chicken?
Like ground turkey, ground chicken is often found at the meat department of the grocery store. You can also order it from ButcherBox.
Ground chicken is made with both dark and white meat from a chicken. It may also contain a bit of chicken skin. Ground chicken is often a light pink color when raw, then white when cooked. It will take on the color of whatever seasonings and sauces you use!
Ground chicken is also a popular substitute for ground beef, thanks to its lower fat and calorie content. It can be used in many of the same ways as ground turkey. Some great ideas include stir-fry, tacos, and stuffed peppers.
Once again, you can totally grind your own chicken at home.
What's the Difference Between Ground Turkey and Ground Chicken?
Both ground turkey and ground chicken are ground poultry, and really have more similarities than differences. They're mild in flavor, have a similar nutritional profile, and can be used in most of the same applications. So, if you're whipping up a stir fry and only have ground chicken on hand when the recipe calls for ground turkey, go ahead and make the substitution.
If we're getting really granular, ground turkey is generally a little leaner than ground chicken. It has fewer calories, less sodium, more iron, and more protein. Still, the differences are almost negligible.
4 Ground Turkey and Ground Chicken Recipes to Try
Chicken Parmesan Meatballs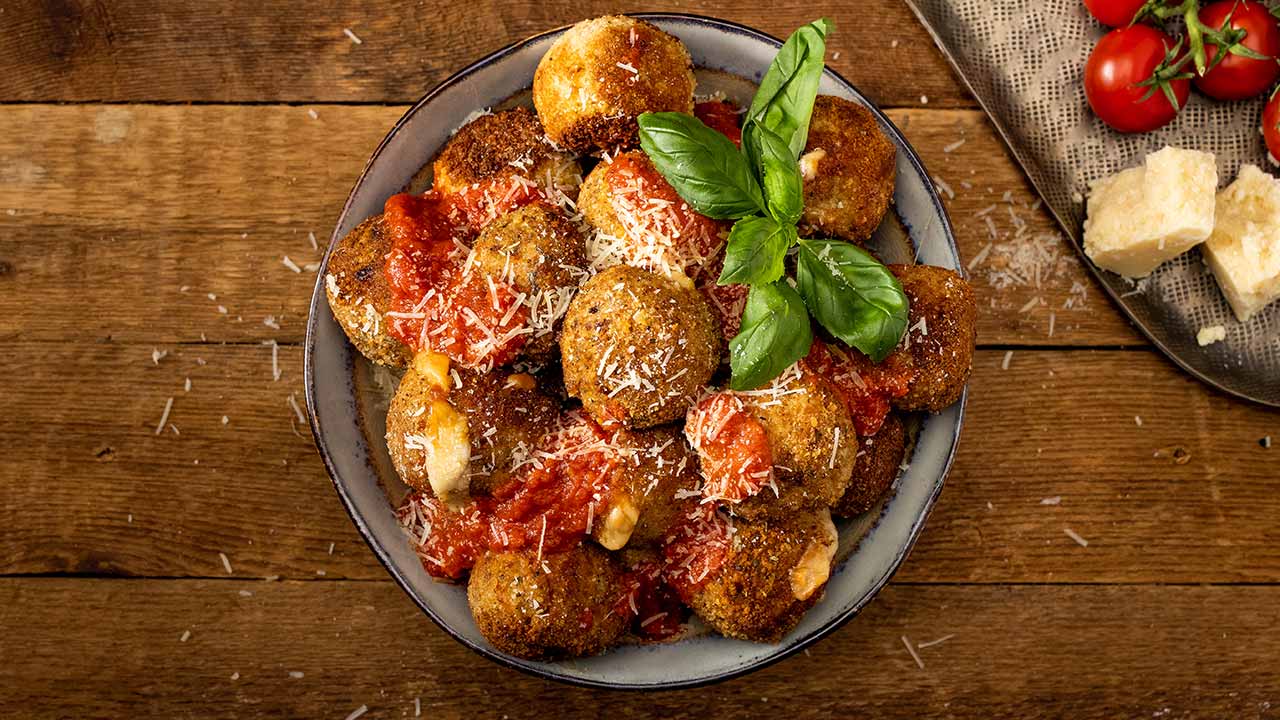 Crispy, juicy little morsels with a cheesy interior—do we have your attention? These Chicken Parmesan Meatballs are like the classic Italian chicken parmesan, in bite-sized form.
Ground chicken is the perfect protein to make these juicy little meatballs, adding familiar flavor and a fun texture. These meatballs are rolled in a breadcrumb coating that crisps up in a skillet of hot oil.
These meatballs are delicious served with your favorite pasta (we're partial to spaghetti and marinara sauce here), or with a fresh salad. They also make a great snack to heat up whenever hunger strikes.
Spicy Chicken Larb (Larb Gai)
Ready to fill your kitchen with fresh aromas? This Spicy Chicken Larb recipe is inspired by the original dish found in Laos and Northern Thailand.
To make it, you'll make your own toasted rice powder, which gives the dish a distinctive nutty flavor. Use a wok to fry up some ground chicken, flavored with fish sauce, sugar, lime juice, cilantro, mint, scallions, shallots, Thai red chilis, and the rice powder. As you can imagine, ground chicken absorbs all that vibrant flavor beautifully.
Serve this larb gai in crisp lettuce cups or with sticky rice.
Game Day Ground Turkey Chili
Chili is the ideal application for ground meat, and this Game Day Ground Turkey Chili is no exception. There's just enough heat to pique your interest, but you can totally temper it with a bit of sour cream and cheddar.
While ground turkey may be a leaner alternative to ground beef in this chili, everything else looks pretty familiar. You'll find the quintessential chili spices, like cumin, garlic powder, chili powder, and cayenne pepper. There's a hint of poblano pepper for extra heat. Red beans and tomatoes round out the dish.
The best part about turkey chili? All the garnishes! Go crazy with sour cream or Greek yogurt, cheddar cheese, cilantro, avocado, scallions, and oyster crackers or tortilla chips.
Turkey Slider with Ginger Mayonnaise
Everyone knows about a turkey burger, but if you'd like to switch up the format a little, try this Turkey Slider with Ginger Mayonnaise. It's sweet, savory, and spiced with warming ginger.
The slider comes together with ground turkey, gluten-free panko, scallions, dried cranberries, egg, coconut aminos, and a touch of salt and pepper. They're the perfect size for a hearty appetizer or snack, or you can serve a few with a salad for a complete meal.
The ginger mayo is the simplest of all: Just combine mayonnaise, grated fresh ginger, and kosher salt. You'll want to spread this on everything.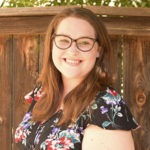 Courtney Hamilton is a writer and editor with over seven years' experience in journalism, blogging, communications, and other media. She has written for publications like PaleoHacks, PaleoPlan, The Center for American Progress, OC Weekly, and more.