We all know and love pizza, but have you ever grilled your pizza before? If not, summer is the best time to try. Beyond that fact that you can avoid using the oven on steamy summer nights, here's why grilled pizza is the best.
Grilled pizza comes together in mere minutes, and while we love an oven-baked pizza, nothing beats that charred, smoky flavor that comes from the grill. Not to mention, the high heat created on a grill can mimic that found in a wood-fired pizza oven. (Check out our how to grill pizza guide for tips on how to create heat zones on the grill and more.)
A grilled pizza is ever-versatile: If it sounds like it would taste good on pizza, any topping is fair game. With this list, we've compiled some of our favorite pizza recipe ideas—heavy on chicken, sausage, and bacon! Feel free to take them as suggestions and riff however you please.
On this list, you'll find recipes like:
Grilled pizza with maple-glazed bacon, potatoes, and blue cheese
Grilled pizza with summer veggies and smoked chicken
BBQ beer brat tailgate pizza
Grilled peach, chicken, and ricotta pizza
And more!
We hope this inspires you to get creative at your grill, and to enjoy lots of pizza. It's a win-win.
1. Margherita Grilled Pizza
Let's start with a classic, on the grill, with this margherita grilled pizza. All you'll need to assemble this pizza is your pizza dough, tomato sauce, fresh mozzarella and parmesan, and a good bit of fresh basil.
The steps are as simple as the ingredients: Preheat your grill, stretch your dough (homemade or store-bought, both work), and plop it on. You'll cook the dough until the bottom is golden brown, then top with your tomato sauce and mozzarella.
Let it cook covered for just a couple minutes, then sprinkle with fresh basil and grated parmesan. Perfection!
2. Grilled Pizza with Maple-Glazed Bacon, Potatoes, and Blue Cheese
We'd be hard-pressed to come up with a better combo than maple bacon, potatoes, and blue cheese. Now, throw all that on a pizza, and you'll have this grilled pizza with maple-glazed bacon, potatoes, and blue cheese recipe.
This recipe makes the dough from scratch, but it's a very simple, foolproof recipe. You'll also roast your potatoes and crisp the bacon (brushed with sweet, sweet maple syrup) at the same time in the oven.
On the grill, you'll follow the same process as many of the recipes on this list. Cook the dough until golden-brown on the grill, then add your cooked bacon, roasted potatoes, mozzarella, and blue cheese, thinly sliced onion, and cook for a few minutes until everything is bubbly and oh-so-delicious.
3. Grilled Pizza with Summer Veggies and Smoked Chicken
This grilled pizza with summer veggies and smoked chicken is the ultimate way to use up summer produce. It compiles some great veggie ideas, but you can work with what you've got on hand. Bonus points if the chicken is leftover from another meal!
To start, you'll want to lightly char your vegetables in a grill basket, building smoky flavor and par-cooking them for the perfect texture. This recipe opts for zucchini, red onion, and corn.
You'll repeat that by-now familiar process of grilling the dough, loading on your toppings (those great veggies, smoked chicken, and mozzarella in this case), and finishing cooking the whole thing until nice and melty.
4. BBQ Beer Brat Tailgate Pizza
Ready for a delectable grilled pizza you can make while tailgating? Try this BBQ beer brat tailgate pizza.
You can make this grilled pizza anywhere you have access to a grill, whether you make it at home or at a tailgate. On it, you'll find succulent slices of beer brats, barbecue sauce, red bell pepper, and mozzarella.
Note: The pizza dough contains wheat beer, too, which adds a depth that water can't touch.
5. Grilled Chicken Caesar Pizza
Have you ever had a salad pizza? It's exactly what it sounds like: A well-dressed salad, with plenty of texture and tasty components, topped on a pizza. It's delightful, as you'll find with this grilled chicken Caesar pizza.
This recipe starts by building a simple, but delicious, pizza on the grill. The dough is grilled, brushed with a heavenly garlic oil, then topped with chicken, bacon, and mozzarella. Once ready, you'll top that pizza with a salad made with more chicken and bacon, Caesar dressing, fresh romaine, and parmesan.
The contrast between cool and warm, and the mouthful of incredible flavor, is something not to be missed.
6. Bacon and Red Onion Grilled Pizza
Looking for a simple grilled pizza that comes together in minutes? Try this bacon and red onion grilled pizza.
This easy pizza recipe combines tomato sauce, thick-sliced bacon, thinly-sliced red onion, mozzarella, and a hint of red pepper flakes. Cut into personal-sized pizzas, this recipe cooks up in mere minutes on the grill.
7. Easy Spicy Italian Sausage Grilled Flatbread
Served as an appetizer or a full meal, this easy spicy Italian sausage grilled flatbread is a crowd-pleaser.
This recipe is flavor-packed, thanks to bold toppings like capicola salami, spicy Italian sausage (both slices and crumbles work here), sauteed mushrooms, and manzanilla olives. A sprinkle of fresh basil and parsley brightens things up.
8. Grilled Avocado-Barbecue Chicken Naan Pizza
If you're looking for a grilled pizza dough shortcut, try naan bread. This fluffy, flavorful flatbread makes a great crust in a pinch, shown perfectly in this grilled avocado-barbecue chicken naan pizza recipe.
This recipe couldn't be simpler to throw together, especially when your skipping all the prep work of pizza dough from scratch. Beyond naan, you'll need olive oil, barbecue sauce, fresh mozzarella, shredded chicken, avocado, red onion, and a sprinkle of black pepper.
Keep this pizza on indirect heat to avoid burning the naan, and you'll be golden.
9. Grilled Peach, Chicken, and Ricotta Pizza
This grilled peach, chicken, and ricotta pizza mixes up the formula: While it takes a trip to an oven to bake, the toppings are all grilled for a rich, smoky flavor.
You'll grill your peaches, red onion, and chicken until they're beautifully charred, then slice them and layer on your preferred pizza dough. Add creamy ricotta and bake, and that's it. Add a sprinkle of fresh basil for brightness.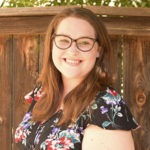 Courtney Hamilton is a writer and editor with over seven years' experience in journalism, blogging, communications, and other media. She has written for publications like PaleoHacks, PaleoPlan, The Center for American Progress, OC Weekly, and more.