Last Updated on December 29, 2019
I can say without hesitation that breakfast is the favorite meal in my household. My three-year-old requests breakfast-for-dinner almost nightly, and I live for hearty breakfasts and brunch outings.
While my husband attended grad school in Orange County, California, we had a go-to breakfast spot: Rooster Cafe.
A humble diner where parking spots are scarce, Rooster Cafe corners a side street in Costa Mesa, with a boldly colored rooster emblazoned on its outer wall. They're usually only open for breakfast and lunch, though I hear they'll offer weekend dinners soon.
The menu is simple, comforting, but a touch more inventive than your average diner. There's a quick and hearty Portuguese scramble with Portuguese sausage, eggs and a side of brown rice. Or, you could enjoy a fluffy mound of Texas French toast.
A creature of habit, I always opt for one thing, because it's a thing of beauty: breakfast tacos.
On paper, the breakfast tacos sound basic: scrambled eggs, bacon, cheddar cheese, house-made salsa, avocado on corn tortillas with red potatoes.
But every bite of these satisfying tacos demonstrates the perfect balance of textures. You have warm, pliable corn tortillas (so much more flavor than flour!) that encase fluffy scrambled eggs, succulent bacon, and creamy slices of avocado. Amazingly, the avocados are always at their peak ripeness.
Melty cheddar cheese makes everything a touch gooey, while the just-spicy-enough salsa cuts through some of the richness. As if these tacos weren't enough to hold you over, you enjoy a side of homestyle red potatoes, too.
It's worth noting here that these breakfast tacos are uniquely their own—they don't replicate the flour tortilla-coated breakfast tacos of Austin, Texas (which I still love, believe me), and they're not much like a street taco you'd find in an authentic Mexican restaurant. With these tacos, somebody took the time to figure out which exact breakfast foods meld perfectly together. And wow, they were successful.
We've since moved away, but I think about those breakfast tacos a lot. I also think of the fond memories: my then one-year-old scarfing down bits of my tacos (salsa removed, of course), then playing near the bold rooster logo. Or, times where my husband and I had a spare hour between classes and meetings and snuck away for brunch.
I've since enjoyed many a breakfast taco, but they've never held a candle to the ones at Rooster Cafe. You should try making your own version of this dish yourself—try different combos of eggs, bacon, cheddar, avocado, salsa, tortillas, and potatoes—for yourself. But if you ever have the chance to check them out in person, take it.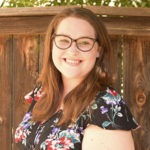 Courtney Hamilton is a writer and editor with over seven years' experience in journalism, blogging, communications, and other media. She has written for publications like PaleoHacks, PaleoPlan, The Center for American Progress, OC Weekly, and more.