Last Updated on May 5, 2020
We all love a good "Taco Tuesday," but if you're growing bored of ground beef or shredded chicken tacos with crunchy shells, we've compiled a few novel ways to make a delicious taco at home.
In this compilation, you'll find unique taco recipes, like:
Pork carnitas lettuce wraps

Buffalo chicken tacos with blue cheese cilantro ranch

Keto cheese taco cups

Paleo fish tacos
While unique, all of these recipes have a few things in common: They're absolutely packed with flavor and easy to make in your own kitchen. Plus, there are options for a variety of dietary goals. Enjoy!
1. Instant Pot Pork Carnitas Lettuce Wraps with Salsa Fresca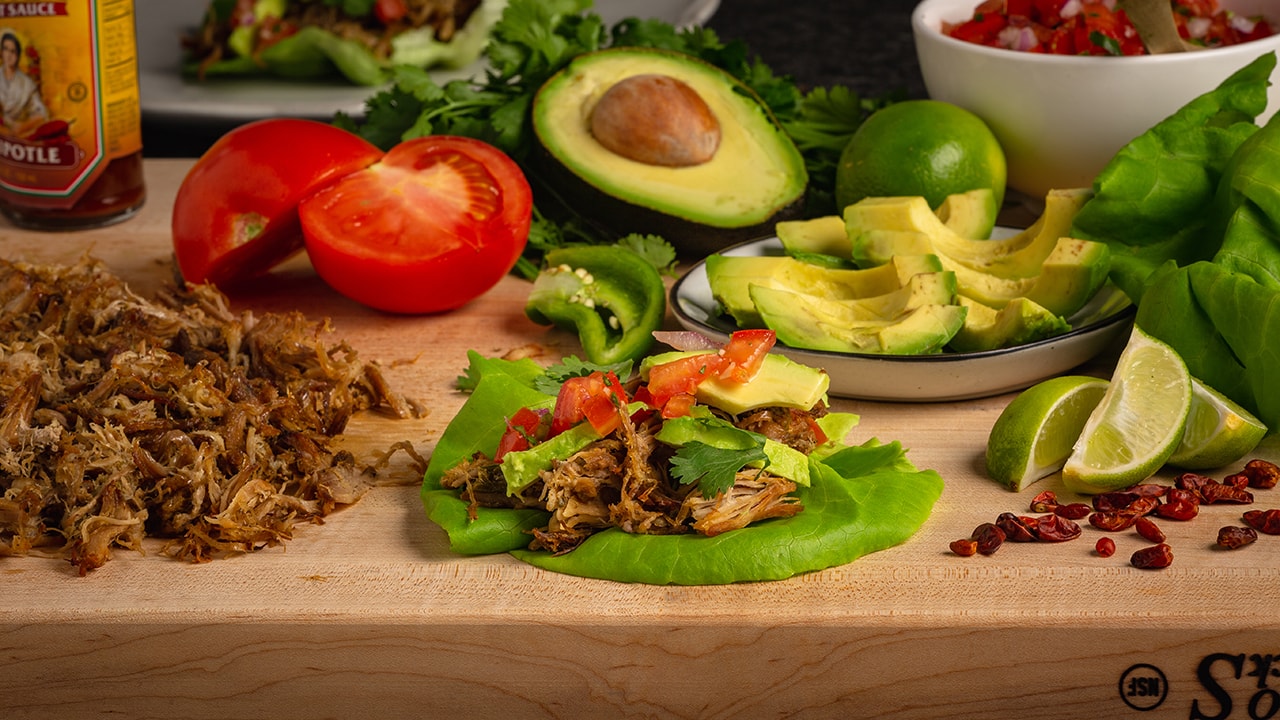 Let's start this list with an uber-nutritious "taco:" The lettuce wrap. These Instant Pot pork carnitas lettuce wraps with salsa fresca capture everything that's great about a taco—flavorful meat, fresh salsa, crunchy exterior—sans carbs.
The Instant Pot makes juicy pork carnitas a cinch—the pork is braised in a combination of garlic, jalapeno, and citrus juices for just one hour. (If you want to try the same recipe in a slow cooker, increase the cook time by a few hours.)
Finally, crisp the carnitas up in the oven for 10 minutes, and you'll be on your way to lettuce wrap heaven.
Pro Tip: These "tacos" are excellent with the lettuce wrapper, but if you're set on tortillas, go ahead and use this recipe with some warm corn tortillas for its fall-apart pork carnitas and bright salsa fresca.
2. Paleo Tacos in Soft Cauliflower Tortillas
Paleo innovation has come a long way. Now, it's easy to enjoy tortillas without corn or flour. Just take these Paleo tacos in soft cauliflower tortillas for example. The tortillas come together with cauliflower, coconut flour, tapioca flour, and a few other simple ingredients.
As for the filling, a simple, well-spiced ground beef mixture melds perfectly with the soft cauliflower tortilla. You can get creative with garnishes; this recipe suggests avocado, tomato, black olives, creamy Paleo mayo, and more.
3. Sweet and Sour NY Strip Tacos with Cabbage Slaw
Love slaw? These sweet and sour NY strip tacos with cabbage slaw allow the crisp salad to really shine, thanks to a refreshing blend of cabbage, carrots, and sweet apple.
It doesn't hurt that the base includes uber-juicy strips of New York steak. The steak marinade doubles as the slaw dressing, with ingredients like sesame oil, honey, coconut aminos, rice vinegar, and sesame seeds.
These tacos are definitely a fusion food—in fact, you could easily sub out the tortillas for bao buns for an equally delectable meal.
4. Buffalo Chicken Tacos
Spicy and satisfying, these buffalo chicken tacos make for a unique meal. Top it all off with blue cheese cilantro ranch, and you're in for a taco night like never before.
Along with buffalo chicken, these tacos boast a texture-packed corn avocado topping. In it, you'll find romaine lettuce, sweet corn, matchstick carrots, celery, avocado, and lime juice. This all melds beautifully in a soft tortilla
For a creamy reprieve from the heat, top these with a blue cheese cilantro ranch. You can make this dressing from scratch, or jazz up a bottle of ranch you have on hand. Either way, yum.
5. Slow Cooker Barbacoa Beef Tacos
Ready for a Paleo-friendly taco meal, complete with fall-apart barbacoa beef? Then you need this slow cooker barbacoa beef tacos recipe in your arsenal.
Barbacoa beef is absolutely packed with flavor, though it's made simple with a slow cooker. You'll coat a chuck roast in sea salt and oregano, then sear it in ghee. From there, pour it all in the slow cooker and add minced garlic, beef stock, cumin, smoked paprika, and onion powder.
Let that cook on low for 6 to 8 hours, then serve it up with your preferred tortillas and toppings. Don't forget to include a little juice.
6. Keto Taco Cups
You can make Keto-friendly taco cups out of cheese. Yes, cheese! These Keto taco cups are proof.
All you need to make the cups is shredded cheddar cheese and a hot oven. Bake spoonfuls of shredded cheddar for a few minutes, then use a couple muffin tins to mold it into a cup shape.
To fill them up, this recipe goes fairly traditional with ground beef filling, and toppings like sour cream, diced avocado, cilantro, and tomatoes.
7. Paleo Fish Tacos
How do you make fish tacos better? You whip up juicy, flaky fish with tempura-inspired batter. That's just what these Paleo fish tacos do.
The gluten-free and Paleo-friendly "tempura" batter combines cassava flour, arrowroot starch, baking soda, and a few key spices. The secret to a thin golden exterior? Add just a little sparkling water. You'll want to opt for a firm white fish, like cod, tilapia, or halibut.
Don't forget the simple, homemade salsa. All you need are tomatoes, shallots, parsley (or cilantro), lime juice, and salt.
8. Asian Chicken Tacos with a Mango Slaw
Here's a taco recipe that's uber-customizable. These Asian chicken tacos with a mango slaw can be made with chicken, yes, but virtually any protein works. Try shrimp, beef, or fish if you'd like.
There's a bit of spice in this Asian-inspired recipe, thanks to a sriracha-based sauce. It's tempered by creamy mayo, lime juice, and a tiny bit of sugar. 
The slaw adds sweetness and crunch, with a blend of fruits and veggies like mango, green cabbage, cilantro, red onion, and shredded carrots. Wrap it all in a soft tortilla, and it's the perfect example of a taco.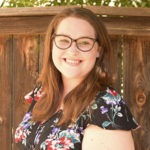 Courtney Hamilton is a writer and editor with over seven years' experience in journalism, blogging, communications, and other media. She has written for publications like PaleoHacks, PaleoPlan, The Center for American Progress, OC Weekly, and more.