Last Updated on April 1, 2022
What do you do when you look in your fridge and don't see much? If you order takeout or rush out to the store for dinner, it's time to take stock of the kitchen staples you already have in your pantry, fridge, or freezer.
With these recipes, you'll learn how to take staple ingredients and transform them into full-blown dishes. This way, you'll use what you have, and you'll also have a better idea of what you really need during your next trip to the grocery store.
New Potatoes and Peas with Bacon
This new potatoes and peas with bacon recipe makes for a hearty side dish or a comforting meal.
Here are the kitchen staples you'll need to make it:
Baby potatoes
Peas
Butter
The recipe calls for new potatoes, but if baby "steamer" potatoes are what you've got, they make a fine substitute. You can make this with fresh, shelled peas, or frozen. You're cooking from the pantry after all!
The crispy shards of bacon and a slip of peppery cream and butter make the dish and don't even think about peeling those vitamin-packed potato skins off.
Blackened Cod Tacos
Taco night is the ultimate cook-from-the-pantry meal. Throw some tortillas and spices together, sneak in a few fresh ingredients, add a protein, and you've got tacos—like these blackened cod tacos. Bonus points if you take the cod from the freezer!
Here are the kitchen staples you need:
Flour tortillas
Common spices
Sugar
You'll make your own blackening spice in this recipe, using spices like garlic powder, cumin, smoked paprika, cayenne, salt, pepper, and a touch of sugar. The cod fillets take a dip in the spice blend, then fry on high heat in a cast-iron skillet. Be sure to turn your vent fan on!
A bit of freshness livens up the meal, with ingredients like pico de gallo, fresh cilantro, jalapeño, and a spritz of lime juice.
Bacon Shortbread Cookies
Pantry staples are perfect for desserts, like these bacon shortbread cookies. Sweet, smoky, and a little savory, these shortbread cookies are a treat you can make with just a handful of ingredients.
Here are the kitchen staples you need:
The key to this recipe is leftover bacon fat (that's been stored properly, of course.) You'll also need some freshly cooked bacon, cooled and coarsely chopped.
It's really as simple as mixing it all together in a stand mixer, forming your shortbread cookies, and baking. Oh, and trying to resist biting into one fresh out of the oven!
Corned Beef Hash
Corned beef hash is the ultimate cook-from-the-pantry breakfast.
Here are the kitchen staples you need:
Potatoes
Vinegar
Common spices
Often, corned beef hash is made with canned corned beef, but this recipe uses leftover fresh corned beef brisket. It's a delicious recipe to make post-St. Patrick's Day.
The rest of the ingredients, though, you likely already have in your pantry, including potatoes, butter, white vinegar, onion powder, garlic powder, salt, and pepper. That's it!
The result? Savory, slightly tangy, stick-to-your-ribs comfort food.
Bacon Pancake Bread
Do you have an unused box of pancake mix in your cupboard? This bacon pancake bread is an excellent way to mix it up.
Here are the kitchen staples you need:
Pancake mix
Milk
Eggs
Maple syrup
This recipe couldn't be simpler. Combine pancake mix with crispy, chopped bacon, maple syrup, milk, and eggs. Pour it into a greased loaf pan and bake. Feel free to drizzle the finished loaf with a little more maple syrup.
Sesame Salmon Soba Bowls
These sesame salmon soba bowls are light and easily customized. Don't have any salmon on hand? Sub in boneless, skinless chicken or cod. These cold soba noodles pair beautifully with any protein.
Here are the kitchen staples you need:
Soba noodles
Miso
Sesame seeds
The dressing that enrobes the noodles is so addictive, made with peanut oil, rice wine vinegar, miso, grated ginger, and sesame oil. Pro tip: You can make this dressing up to three days ahead, and it goes great on salad, too.
Coating the salmon in sesame seeds is an easy way to add flavor and crunch. It might just be your new favorite way to make salmon.
Burst Cherry Tomato Bolognese
Pasta reigns again on this list, this time with a burst cherry tomato bolognese that's pure comfort in a bowl.
Here are the kitchen staples you need:
Rigatoni (or whatever pasta you have on hand)
Tomato paste
Olive oil
Fresh veggies like yellow onions, carrots, and celery (mirepoix) add tons of flavor, while ground beef adds heft. Don't forget about the sweet burst cherry tomatoes, and the indulgent hit of heavy cream.
Curried Ground Turkey with Coconut Milk
If you've got a well-stocked spice cabinet, this is the pantry meal for you. This curried ground turkey recipe is a unique take curry, and couldn't be simpler to throw together. In fact, it's ready in 20 minutes flat.
Here are the kitchen staples you need:
Coconut milk
Canned diced tomatoes
Common spices
You'll find spices like cracked coriander seeds, turmeric, cumin, and cayenne in this curry. Coconut milk and canned diced tomatoes round out the pantry staples (plus rice, if you plan to serve that alongside your curry).
Fresh ingredients include ground turkey, garlic, ginger, shallot, jalapeño, cilantro, and lime. There are even some frozen peas for a delightfully sweet note.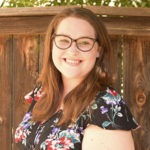 Courtney Hamilton is a writer and editor with over seven years' experience in journalism, blogging, communications, and other media. She has written for publications like PaleoHacks, PaleoPlan, The Center for American Progress, OC Weekly, and more.