Last Updated on April 12, 2022
It's almost impossible these days to walk through a grocery store or farmer's market without seeing a new artisanal spice mix or homemade barbecue sauce.
But why spend money on expensive spice mixes when you can quickly put together a delicious and flexible spice rub at home using items you probably have in your pantry. At the ButcherBox Kitchen, we love to use an all-purpose dry rub that is perfect for beef, chicken, pork, and more. All you need is paprika, chili powder, garlic powder, salt, and pepper to add flavor to almost any meat.
I usually make the mix as I am preparing a dish or working on a new recipe, but you can also make a jar ahead of time and use it whenever your meat needs a kick of flavor.
The neutral flavors of this spice blend are great on their own, but they also give some added extra flavor when you baste the meats in homemade barbecue sauce.
BB All-Purpose Dry Rub
This dry rub can be made with five of the most common spices. You likely have all of them in your pantry already.
Print
Pin
Ingredients
5

tbsp

chili powder

5

tbsp

black pepper

5

tbsp

garlic powder

1/2

cup

kosher salt

1

cup

paprika
Instructions
Mix all ingredients together in a medium or large bowl.

Store in a mason jar or other air-tight container.
A Few Ingredients, Many Uses
Although this mix seems simple, it is a powerhouse when it comes to its flexibility to be used for different meats and different types of dishes.
Here are the many ways we use this versatile spice blend.
As the perfect chili spice: Add a tablespoon or two as the base flavor for quick chicken or beef chili.
An overnight rub to prep for a day of slow cooking: Rub a quarter to a half a cup on a pork butt or beef brisket and leave in the fridge overnight. Braise the meat the next day or use a slow cooker for perfect pulled pork or beef. Chef's tip: The longer you leave the rub on large cuts of meat in the fridge—say 2-3 days—the more tender it will be.
Add a few tablespoons of the dry rub to panko and coat pork chops for some crispy goodness.
Rub on meats and sear, grill, or roast.  Chicken breast: Instead of plain salt and pepper sprinkle this dry rub to cover the chicken and either sear or grill.
Whole chicken: Rub on the outside, inside, and under the skin for a great easy Sunday dinner. You can also make great chicken salad with the leftovers—if you have them.
Drumsticks and skin-on chicken thighs: Rub on and leave overnight. The next day, roast or grill with your favorite bbq sauce.
Steak: Add a little avocado oil to make a wet rub. Massage on before grilling.
Ground beef: Add to ground beef for an incredible taco or enchilada meat.
Add a few tablespoons of the dry rub to the flour of your choice for fried chicken. Check out the amazingly simple fried chicken sandwich recipe below:
You can also use this spice rub beyond meat; instead of plain salt and pepper toss veggies in this dry rub before roasting for a zesty veggie option.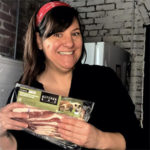 Emilie Abijanac is a graduate of New England Culinary Institute with over 20 years of catering experience in Boston. Emilie was the Sous Chef for East Meets West Catering and has worked with Kate's Table and La Fête. Emilie was also the culinary director of ButcherBox.