Last Updated on July 25, 2023
Tender and sweet poached shrimp, rich avocado and the bright tang of lemon, lime and orange all make for a winter salad that's like a tropical vacation sweepstakes winner salad. Because ButcherBox Shrimp are on the small side, we recommend taking the time to defrost in the fridge to get that tender, sweet shrimp taste. Make sure to cook the brown rice first so it can cool before tossing it into the salad. Another grain or legume of your choice, like chickpeas, can work well here, too.
There are a lot of ways to garnish or top this salad. Try a few drizzles of chili and garlic crunch or salsa macha or for a cooler, creamier flavor, try yogurt. For crunch and nuttiness, add nuts. Peanuts, almonds or cashews work well here.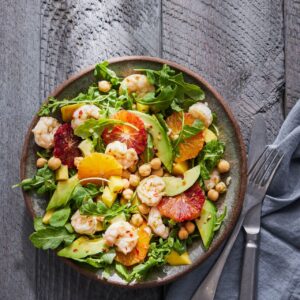 Ingredients
Salt

1

lb

ButcherBox Shrimp, defrosted and rinsed

2

navel, cara cara or blood oranges 

1

medium mango, just slightly under-ripe

2

limes, zested

4

tbsp

fresh lime juice (from about 2 limes)

2

tbsp

fresh lemon juice (from about 1 lime) 

2

tbsp

shallots, chopped

1

tsp

ground coriander seed 

1/2

tsp

ground cumin

1/2

tsp

crushed chili flakes 

1/4

cup

cilantro, chopped 

1/2

cup

olive oil

1½

cup

brown rice, cooked and cooled

(or 1 can of chickpeas, drained)

5

oz

arugula
Instructions
Bring a medium pot of salted water to boil and poach the shrimp by placing them in the hot water, making sure water comes to a boil again, if it stops. Shrimp are done cooking when thoroughly pink and cooked through or registering 145ºF with an instant-read thermometer, about 3 to 5 minutes. Drain shrimp then transfer to a plate and place in the freezer or fridge until just chilled, about 10 to 20 minutes.

Meanwhile, make the citrus vinaigrette and prepare the fruit by combining the lime zest, lime juice, lemon juice, shallots, coriander, cumin and chili flakes in a large bowl. 

Slice the tips off the oranges and place oranges flat on a workspace. Using a sharp paring knife (sharp is very important here), make top-to-bottom curved cuts, slicing just the peel and pith off and exposing the flesh. Then slice oranges into thin discs and set aside. Peel the mango, slice into 1½-inch chunks and set aside. 

Pour the olive oil into the citrus vinaigrette bowl, add the cooled shrimp and rice and toss to coat well. Toss in the orange discs and mango chunks then gently toss in the arugula. Season with salt. 

Serve the salad in the bowl or on plates with scoops of avocado and more salt on the avocado. 
The ButcherBox Kitchen Team works hard to give you confidence you need to pull off any kitchen endeavor.