Last Updated on July 6, 2021
These baked stuffed pork chops bring an incredible combination of apple, sage, onion, and savory pork to your dinner table. Served with your favorite veggie, this easy recipe is sure to be a household favorite.
Ingredients
4

ButcherBox pork chops

thawed, dried

2

tablespoons

cooking oil

½

cup

onion

small dice

1

small

apple

peeled, cored, small dice

1

teaspoon

rubbed sage

1½

cups

croutons

substitutions: gluten free croutons

1

cup

chicken stock

substitutions: water, vegetable stock

1

teaspoon

kosher salt

1

teaspoon

ground black pepper

1

tablespoon

butter

optional
Instructions
Thoroughly dry pork chops. Along the fat side of the pork chop cut a pocket, think pita pocket. Once they are stuffed they will be able to sit upright in the baking dish. This will allow the fat strip to roast and drip on the rest of the chop for some bonus flavor. Set aside, allowing them to come to room temperature while making the stuffing.

Preheat a skillet on medium heat. Add oil, onions, and apples to hot pan. Sweat for 3 minutes.

Add sage and half of the salt and pepper. If you choose to use butter for a little extra fat and flavor, add it now as well. Continue to sweat for 1 more minute.

Add ¾ cup of chicken stock to skillet and bring to a simmer.

Place croutons in mixing bowl and pour simmered chicken stock over. Let this mixture sit for at least 4 minutes to allow the croutons to absorb liquid. Don't clean that pan quite yet, you will use that to sear the stuffed pork chops.

Season pork chops with remaining salt and pepper. Using your hands to put stuffing into the pork chop pockets. If there is any leftover place in the bottom of a baking dish along with the remaining ¼ cup of stock.

Heat skillet again and add 1 tablespoon of cooking oil to hot pan. Sear each side of pork chop for 3 minutes. If you find that the stuffing is falling out simply use skewers to hold the pork chops "closed" a little.

After searing pork chops place into the prepared baking dish and bake for 25-30 minutes or until the internal temperature has reached 145°F. Let pork chops rest for 5-8 minutes before serving with your favorite veggie!! Enjoy!
Notes
Cooking Technique: Sweat
This recipe calls for you to "sweat" the onion and apples. Sweating is a cooking technique that softens vegetables and aromatics by cooking them in a fat (oil, in this instance) over low heat on a stovetop, often in a covered pan.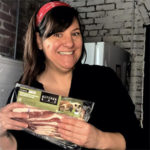 Emilie Abijanac is a graduate of New England Culinary Institute with over 20 years of catering experience in Boston. Emilie was the Sous Chef for East Meets West Catering and has worked with Kate's Table and La Fête. Emilie was also the culinary director of ButcherBox.