Last Updated on March 18, 2020
One of the biggest barriers to buying quality, grass-fed beef, organic, free-range chicken, and heritage-breed pork is the cost. And while these items sometimes cost more than purchasing conventional meat at the store, we'd argue the investment in your health is priceless.
Still, budgets are budgets. We're here to show you that frugal meals and quality meat aren't mutually exclusive.
These recipes are tasty, easy to throw together, nutritious, and most of all, affordable. They're bulked up with hearty (fresh or frozen) produce like squash and cauliflower, or they use frugal carbohydrates like rice, pasta, beans, and more to make the meal stretch.
Nevertheless, they offer balanced nutrition with plenty of quality meat and healthy fruits and veggies, so you can rest assured you're eating as well as you can on a budget.
Quick Beef and Kidney Bean Chili
It doesn't get much more hearty, cheap, and delicious than this quick beef and kidney bean chili. And don't worry: While you might imagine making chili to be an hours-long process, this chili comes together in 45 minutes flat.
This recipe is simple and mild, but you can, of course, add more spice if you'd like. To make this frugal chili, you'll need ground beef, an onion, some celery, a poblano pepper, some garlic, crushed tomatoes, diced tomatoes, kidney beans, and tomato paste. You can season it with items you likely have on hand, like salt, pepper, chili powder, and cumin.
Garlic and Lemon Marinated Chicken Breast with Brown Sage Butter
This garlic and lemon marinated chicken breast with brown sage butter recipe looks and tastes like it takes a ton of premium ingredients and time, but it's made with kitchen staples and takes less than 30 minutes to prepare.
You'll need chicken breasts, some garlic, lemon zest, parsley, olive oil, salt and pepper. To make the quick brown sage butter pan sauce, you'll need the juice from that lemon you zested earlier, butter, sage, cooking oil, and chicken stock.
Serve these lemony and rich chicken breasts with a side of rice and your favorite frugal veggie.
Leftover Turkey Curry Soup
The key to frugality is to use every last bit of your meal, so leftover turkey curry soup is the ideal way to transform some leftover turkey meat (chicken would work fine here too).
And while this meal may not cost very much to throw together, its deep, well-spiced flavor will taste just as good as anything you could order at a restaurant.
To make it, you'll need leftover cooked turkey meat, ghee, chopped cauliflower, diced butternut squash, peas (for all of these veggies, go ahead and go with frozen if they're much cheaper), curry powder, salt, pepper, cashew milk, and stock. This simple ingredients list won't put you back much and will help you whip up a comforting soup, fast.
Sweet Italian Sausage Succotash
Succotash is a great way to pack some colorful veggies into your diet, and this sweet Italian sausage succotash makes it a meal thanks to the addition of crumbled Italian sausage.
Apart from some sweet Italian sausage, you'll also need a small onion, fresh corn, red pepper, edamame (you can sub in the traditional lima beans if you'd prefer), diced delicata squash, thyme, salt, pepper, and olive oil.
After a quick, affordable trip to the produce aisle at your favorite grocery store, you can make this meal in 20 minutes flat.
Honey Lemon Pork Chops
These super simple honey lemon pork chops harness the classic flavor combination of honey and lemon for a quick, frugal weeknight meal.
A combination of lemon, honey, garlic, ghee, rosemary, salt, and pepper bring out the natural sweetness of heritage pork, while also cutting through the meat's delicious layer of fat.
Not only does this meal require very few ingredients (aka money), but it also cooks up quick in just 25 minutes. Serve it with some roasted potatoes and veggies.
Southwestern Frittata
Eggs aren't just for breakfast, as this Southwestern frittata proves. And while eggs aren't just for breakfast, they are a super frugal way to add more protein and nutrition to your meals.
To make this quick frittata, you'll need ground beef, eggs, a touch of heavy cream (use the rest for coffee or to make homemade whipped cream and berries for dessert), scallions, one red pepper, fresh corn, cherry tomatoes, a cup of sharp cheddar cheese, salt, pepper, and Southwest seasoning.
This frugal meal also takes very little effort. Feel free to serve it with a simple green salad if you'd like.
Crockpot Cajun Pork Butt with Jambalaya Rice
The slow cooker is the ideal vessel for cooking pork butt, which requires the low and slow treatment. This crockpot Cajun pork butt with jambalaya rice is a perfect example.
This Cajun pork butt with jambalaya rice packs a surprising amount of flavor with just a handful of affordable ingredients. All you'll need is a pork butt, one orange bell pepper, one red bell pepper, one onion, some long-grain rice, and parsley for garnish. You'll season it with things you likely have on hand, like salt, pepper, smoked paprika, and Cajun seasoning.
If you don't have any Cajun seasoning on hand, don't worry. It's a simple blend of pantry staples, including paprika, garlic powder, onion powder, oregano, cayenne, thyme, salt, and pepper, though you'll find many variations online.
Roasted Stuffed Tomatoes
If you've hit a mid-week slump and haven't gone to the grocery store in a bit, these roasted stuffed tomatoes might be just the thing to rescue dinnertime.
If you've got some ground beef, tomatoes, garlic, onion, a single carrot, a splash of milk and some standard seasonings, you can make this affordable meal.
Essentially giant meatballs in a hollowed out tomato casing, these roasted stuffed tomatoes manage to pack in a decent amount of nutrition and tons of flavor.
Gluten-Free Beefy Mac n' Cheese
Ah, mac n' cheese, the ultimate cheap dinner indulgence. Forget about the boxed version with this gluten-free beefy mac n' cheese recipe, which delivers all the comfort with some grown-up ingredients.
You'll need ground beef, some gluten-free elbow pasta, onion, butter, milk, tapioca flour, olive oil, salt, pepper, and, of course, cheese. This recipe uses Swiss cheese for a unique flavor, but whichever melty cheese you prefer will work.
Of course, this comforting, frugal meal is complete, but you can toss a handful of greens in there for a semblance of a well-rounded dinner.
Salt and Pepper Roasted Pork Sirloin with Broccoli and Cauliflower Latkes
Embrace simplicity with this salt and pepper roasted pork sirloin with broccoli and cauliflower latkes.
The pork sirloin roast is seasoned simply with a generous layer of salt and pepper, while the latkes nix the traditional potatoes in favor of nutritious cauliflower and broccoli.
After seasoning the pork, you'll roast it for nearly two hours. In the meantime, make the latkes by combining riced cauliflower, riced broccoli, minced onion, eggs, coconut flour, parmesan cheese, salt, and pepper. Fry them off in your favorite cooking oil — coconut oil works especially well here.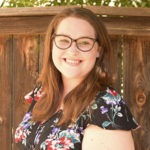 Courtney Hamilton is a writer and editor with over seven years' experience in journalism, blogging, communications, and other media. She has written for publications like PaleoHacks, PaleoPlan, The Center for American Progress, OC Weekly, and more.